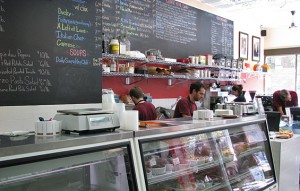 For some of you, it's about that time of summer; you've exhausted your reading list, you've gone to the Museum of Science and Industry (twice? three times?) and you've braved public transportation into the Loop a handful of times. You've even tried the "sulky-intellectual-in-a-dark-bar-who's-too-cool-for-friends" look on for size, but you're getting pretty bored, aren't you? Well, good news! MAPH will be hosting its first official-unofficial pre-program meet-up next week (I am celebrating the use of the hyphen in anticipation of National Punctuation Day: September 24th. Mark your calendars, people*.)
If you're already in Hyde Park, come mingle with your fellow early birds and meet your Mentors in the flesh! (Mmm… flesh.) We will be convening at Z&H at 2:00pm next Thursday, August 16, 2012. It's located on the heavily (alright – moderately) foot-trafficked block of 57th Street and Kenwood. It's a great little place with delectable sandwiches and well-above average coffee. One Yelp reviewer even posits: "I can honestly say that these three sandwiches [Godfather, Lil' Smokey O Malley and the Hennessy] are on my top sandwiches in the world list." I mean – with a glowing recommendation like that, how can you resist? And also – how do we get our hands on that list? We're pretty serious about starting a Global Sandwich Initiative.
We hope to see some of you there! And for those of you who have not yet arrived, that's perfectly fine – we'll be having another get-together closer to the beginning of Colloquium.
On a somewhat tangential note, please really do feel free to use the [MAPH-etc] listserv to schedule meet-ups amongst yourselves or to inform other MAPHers about things you might be doing for the rest of the summer. It's a great way to meet people before the start of the program!
*Please don't forget to download the recipe for the Official Meat Loaf of National Punctuation Day ®