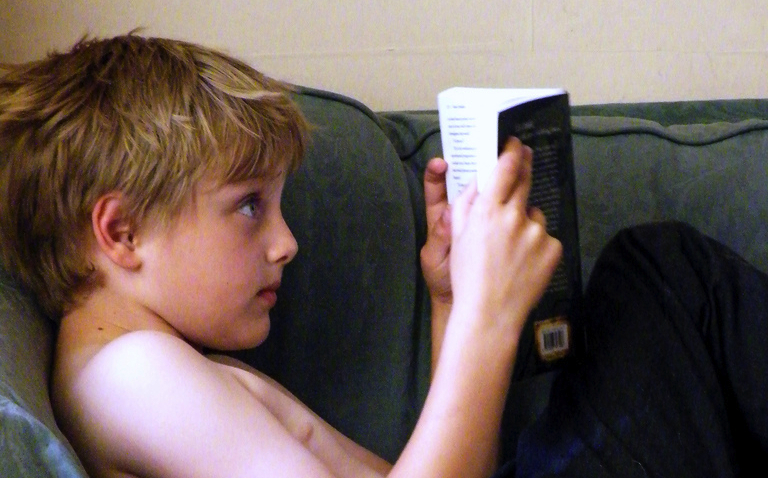 For the new mentors, transitioning from hundreds of pages a week of heavy academic writing to reading for pleasure was a strange sensation. It was a little like visiting a house you hadn't lived in since you were a wee child: disorienting, but with the unmistakable feel of home. At MAPH Central, we're into books in a big way, and since we know that you are too, we thought we'd share what we're reading this summer.
(If your interest is piqued by our recommendations, act now! Your days of reading for pleasure are approaching a nine-month hiatus. And if you're in town early, do not miss the Newberry Book Fair from July 26-29, billed as "Chicago's most popular used book binge.")
IAN:
WHAT I'M READING NOW: Thomas Pynchon, Gravity's Rainbow
After several false-starts, the falseness of which having to do with much ambition attended by many distractions, I have finally determined to read this book I was supposed to have read a long time ago.  The endeavor feels more important than it is, probably because the ostensibly intellectual motivations for reading huge books are in fact intimately bound up in my own vanity.  But the book, so far, really is good.
NEXT ON THE LIST: Henry Green, Loving
According to the back of the book, Loving "brilliantly contrasts the lives of servants and masters in an Irish castle during World War II."  The front of the book has a peacock on it.  Apparently, the only extant photo of Henry Green (not his real name) is a portrait of the back of his head.
MY FAVORITE BOOKSTORE: Powell's Bookstore, 1501 E 57th St./2850 N Lincoln Ave.
Chicago's incarnation of Portland's finest. Not only is the 57th St. location close to campus, but the only crowds I ever encounter there are crowds of books. Perfect for for a relaxing browse.
—
BILL: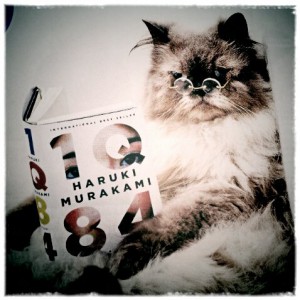 WHAT I'M READING NOW: Haruki Murakami, 1Q84
I've had it on the shelf for a while, but after I saw Ian reading it and full of delight, I started it, too. A woman named Green Peas (Aomame) with odd ears. A lonely writer. An ugly old man. And, of course, cats. For those who enjoy a little reality-destabilization.
NEXT ON THE LIST: Doris Lessing, RE: Colonised Planet 5, Shikasta: Personal, psychological, historical documents relating to visit by Johor (George Sherban), Emissary (Grade 9) 87th of the Period of the Last Days
I'm so excited to start this one, the first in her Canopus in Argos: Archives series. It marks Lessing's sudden switch to science fiction, but her science fiction is unlike anything else. It's a wild, Sufism-and-Old-Testament-influenced diagnosis of humanity. Sadhappy reading. I blazed through the first 20 pages nearly holding my breath before I had to stop and go back to 1Q84.
MY FAVORITE BOOKSTORE: Selected Works, 410 S. Michigan Ave., 2nd Floor.
I have a pal who works in the Fine Arts building downtown. I went to meet him for lunch the other day. He works on the fourth floor. I climbed the stairs to the second floor, ready to keep heading up, when I noticed the old bookshelves by the stairwell. The shelves almost hid a doorway into a wee bookstore filled with highly curated volumes, including the weird sorts of tomes only found in shops like this. Plus there's a bookstore cat, Hodge, who is as beautiful as he is mercurial. (Special treat: the elevators are run by real live elevator operators.)
—
CHRISSY:
WHAT I'M READING NOW: Colum McCann, Let The Great World Spin
After a year of required reading, I'm trying to ease myself back into the habit of reading for pleasure by picking up a book I have already read and know I love. The book pivots around the motif of Phillipe Petit's shocking stunt: tightrope walking between the Twin Towers on an otherwise mundane morning in 1974. McCann weaves together a seamless and heartbreaking narrative about the lives of some not-so-ordinary witnesses of the event. As a New Yorker, it's a book that made me fall in love with my city all over again, offering a fresh perspective on a period of urban transition that I had always known about, but never really internalized. I'm about half-way through it right now and I'm just as entranced as I was the first time around.
NEXT ON THE LIST: John Williams, Stoner
Luckily, one of my best friends used to work at a publishing house in New York, so I am never bereft of book suggestions. Stoner follows the life of a late 19th Century man who heads to university to study agronomy, unwittingly falls in love with English literature and decides, instead, to pursue the scholarly life. If it were one hundred years later, I suspect this man might be in MAPH – I'm sure that we have plenty of agronomic defectors matriculating this year. According to my contemporary fiction guru, "Williams' luminous descriptions of a scholar's life and its rewards make this novel ideal for a return to academia." This suggestion brought to you with one caveat: "It's grim, but it's beautiful."
MY FAVORITE BOOKSTORE: Myopic Books, 1564 N. Milwaukee Ave.
They have a quirky book selection, and a quiet study space on the top floor, which much to my chagrin, I only discovered in my last two weeks in MAPH.
—
So…what are YOU reading? Chime in, chums!