While spring quarter will, ultimately, be your favorite quarter here at UChicago by the time you're done, right now it probably feels awful. You just turned in your first major thesis draft. You're starting to feel a lot of pressure to start job searching. And you're embarking on your last two courses here at UChicago, feeling like you will FINALLY be that rock star student who manages to read everything.
With all of this mounting pressure, we'd like to remind you to: EAT. Some things can get moved to the back burner for the next few weeks (like, perhaps, cleaning out your closet, catching up with your aunt on the phone, and washing your towels). But, alas, eating is not one of those things you can just stop doing. So, in true MAPHcentral fashion, we want to help you out. Here are a few of our favorite quick, easy recipes so that maybe (at least) once a week (please!) you can throw together a home-cooked meal.
(See the recipes…after the jump!)
My grandma's go-to "I have to feed the grandchildren quickly" entree: Chicken Milanese
Ingredients:
1 packet of boneless, skinless chicken breasts
breadcrumbs (Italian seasoning for better flavor)
mayo (or an egg, whatever you have on hand)
salt & pepper
parmesan cheese (optional)
lemon wedge (optional)
1. Prep your station. Put some mayo (or whipped egg) into a small bowl. Pour breadcrumbs out into plate or larger bowl (sometimes I use a pie dish, which is handy for keeping the breadcrumbs from getting all over). Mix salt and pepper (and parmesan cheese) in with breadcrumbs.
2. Cut the chicken into smaller, thinner pieces (if you want to be really Italian about it, pound it into thin slices, about 1/2″ thick). Depending on the size of the chicken you found, you should be able to get 3 or 4 smaller pieces from each chicken breast.
3. Spread thin layer of mayo onto either side of the chicken (or dunk the chicken in the egg). Then coat both sides of the chicken with the breadcrumb mixture.
4. From here you can use a few different cooking methods for your chicken:
a. If you're feeling unhealthy, or just want to eat sooner rather than later, put a frying pan with a coat of olive oil on the stove at medium heat. Once the oil's hot, cook the chicken in the pan for about 4-6 minutes on each side (depending on how thick the pieces are).
b. If you're in the mood for a healthier option, put the chicken into a glass casserole dish and bake it in the oven at 350 for 20-30 minutes (again, depending on how thick the pieces are). Sometimes I'll cover it with aluminum foil for the first 15 minutes or so (that way the inside will cook but the outer breading won't get too dark).
5. Then, if you're using lemon, squeeze a bit of juice over the chicken and enjoy!
My favorite healthy chocolate snack: Chocolate Pumpkin Muffins
Ingredients:
1 box devil's food cake mix
1 15 oz. can of pumpkin (NOT pumpkin pie mix, just regular canned pumpkin)
1. Pour the dry cake mix and the can of pumpkin into a bowl and mix. It will take a while (and your arm will get a really good workout), but the batter should end up being really thick and slightly lumpy.
2. Line your muffin tin cups with cupcake wrappers (or lightly grease) and place a spoonful of batter into each cup. Bake at 400 for 20 min.
Guest Recipe from Jess: Curry!
So I hesitate to call this a recipe, since I have no measurements, just as a warning.
Ingredients: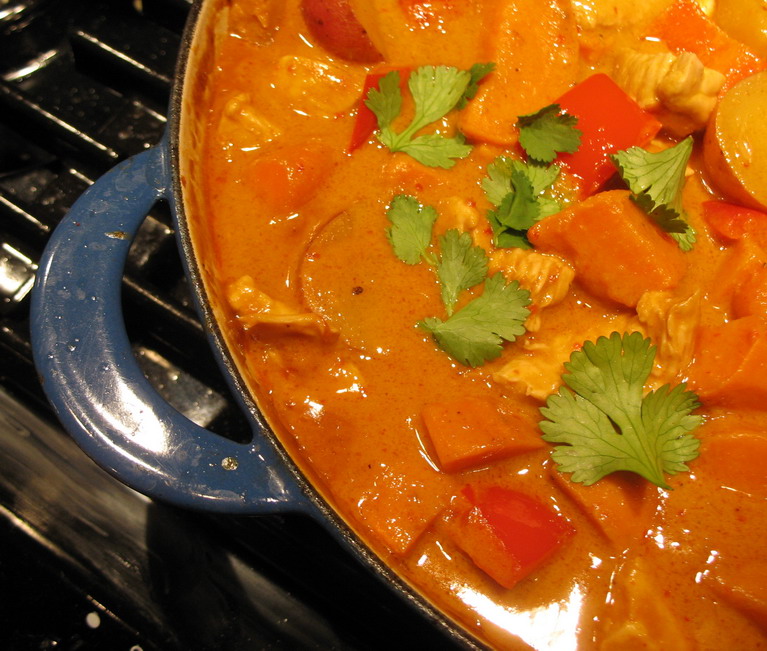 Onion(s), chopped
Garlic, chopped
Ginger, grated
Salt
Pepper
Cayenne
Cumin
Coriander
Turmeric
Crushed Tomatoes
Whatever veggies you want to be making a curry with
1. Put enough oil to coat the bottom of the pot you will be using and get this hot.  Add the chopped onion, cook til they get translucent.  Then add the chopped garlic and grate in some fresh ginger.
2. Once those start getting soft, add the spices—I don't have measurements, but you'll want a fair amount of salt, and probably more cumin than coriander or turmeric. The cayenne should be to taste, and you can substitute other spicy things if you prefer.  If you use peppers, put those in with the onions at the beginning. There are also premade curry spice blends you can experiment with, if you prefer.
3. Once the spices start to release their aromas, add the crushed tomatoes.  The amount depends on the size of your pot—either two of the small cans or one of the big ones is probably good for a medium-big pot.  Let that simmer, and adjust the spices to taste.
4. When that tastes good, add whatever vegetables you want—I frequently do cauliflower and lentils (cook the lentils ahead of time, and use some of the same spices).  The veggies will release liquid, so you may need to add spices/adjust the flavor balance again, as well as potentially letting it reduce.  Then enjoy!
(Note: If you over-season or over-reduce, you can add some broth to the curry to dilute it a bit, or more of the crushed tomatoes, depending on your preferred consistency. If you made lentils beforehand, any leftover liquid you cooked the lentils in can also be used for this.)
From Maren's Kitchen: Cranberry Chicken
This is a super simple meal that always seems to work out well and requires very few ingredients and little prep time (and you can serve it to parents with impunity)
Ingredients:
boneless chicken breasts
1 can whole berry cranberry sauce
1 8 oz. bottle of French dressing
1/2 envelope of onion soup mix/ onion powder or 1/4 chopped white or yellow onion
1. Line a lasagna pan with foil.
2. Place boneless chicken breasts in pan.
3. Make the sauce–in a separate bowl mix together can of cranberry sauce, French dressing, and onion mix of choice. (Sauce is sufficient for 2-3 chicken breasts.)
4. Pour sauce over the chicken. Bake at 350 for 1 1/2 hours (if it chicken darkens cover with foil)
Also graciously provided by Maren: Swedish Oven Pancake
This pancake recipe makes a light thin puffy pancake and you don't have to stand over the stove but can leave it alone for half an hour. Plus it can be made with just a few ingredients.
Ingredients:
1/2 c milk
2/3 c flour
2 T sugar
1/2 tsp salt
2 eggs
1/2 tsp ground cardamom
1/4 c butter (for pan)
1. Beat together all ingredients – except butter- until  smooth.
2. Place butter in a 9 inch pan (a pie plate works great) and place in a 400 degree oven until butter melts.
3. Pour batter into melted butter and bake for 35 minutes or until golden brown and puffy. Enjoy!
We hope these are useful! Feel free to post your own cheap/easy recipe in the comments for your fellow MAPHers to enjoy!