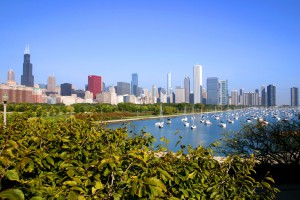 With MAPH starting in a few weeks and the colloquium reading assignments just around the corner, I don't think we've stressed enough how important it is to get out of Hyde Park while you still have the time to do it. Last year, my plan was to explore a different area or attraction of Chicago every weekend during the program but, even with the best intentions, it gets harder and harder to make the trek into the city once you have papers and thesis topic proposals looming over you. Needless to say, I'm now having fun, post-MAPH exploring Chicago because of my poorly executed plan. So, those of you who are here now…take advantage of this time!
A-J already posted his important annual exhortation stressing the need to get out of Hyde Park, but you still might be wondering how you actually go about doing that. There are a plethora of options to get into the city and up north from Hyde Park, but there are really only three viable ones if you want to get there within a reasonable time frame and feel safe doing it. (More on the three options after the jump…)
1. #6 Bus: Jackson Park Express to Wacker and Michigan
While unfortunately a bit unreliable as far as timing goes, the #6 is probably the easiest and most convenient way to get out of Hyde Park at all hours. It runs fairly frequently (every 5-10 minutes during rush hour and every 15 or so during the other hours of the day), stops decently close to the University (on Stony Island at both 57th and 59th streets), and weaves its way up Hyde Park and Lake Park before driving express down Lake Shore Drive to Michigan Avenue. It will let you off at almost every corner along Michigan until you hit the Chicago River at Wacker and then the bus driver kicks you off. Downside: the schedule is quirky because it's often late and usually very crowded. But once in a while you'll get lucky and it's still your best bet to get into the city.
2. #2 Bus: Hyde Park Express to Navy Pier
By far my favorite bus…this beautiful bus route snakes its way through Hyde Park, goes right along 60th behind the University, and runs Express down Lake Shore Drive into the city. Then, once it's in the city, the #2 runs up State Street, which is really helpful if you're planning to jump on one of the trains from there. Downside: it's a rush hour bus–roughly 6-9 AM and 4-7 PM–so, if you're not a morning person, you're probably out of luck with this one until much later in the day.
3. Metra Train: Metra Electric District Line
The Metra will make you feel elegant…like you're stepping back in time to the old days of train engineers and lace gloves. Well, not really, but it is perhaps a step up in comfort and class from the buses and definitely the fastest way to get in to the city. If you jump on at the 55th St. stop and ride it to Van Buren, you'll be downtown standing next to the Art Institute in about 12 minutes. Downside: unless you catch it during rush hour, it only comes every 45 minutes or so.
As far as fare goes, both the buses and the Metra will cost you about the same amount, but unfortunately the buses use CTA cards and the Metra uses separate train tickets. There are plenty of good ways to save money on both by buying monthly passes, taking advantage of transfer rates, etc., so feel free to pick our brains about the various options!