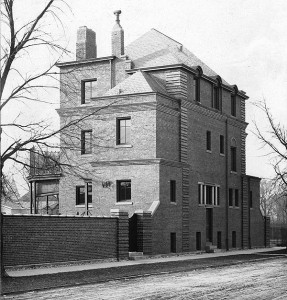 This year, MAPH will be holding our annual prom at the Frank Lillie house, built in 1901 for UChicago embryology professor Frank Rattray Lillie by the brothers Irving and Allen Pond, two of Chicago's most creative architects at the beginning of the 20th century.  The Pond brothers coined the term "builded beauty" as a way of talking about their simple, straightforward designs which would forthrightly proclaim the manner of their construction.  This National Historic Landmark has fallen into a state of disrepair, ironically decaying the functional uprightness of the "builded beauty" concept.  What kind of prom could we have, we at MAPHcentral wondered, at this place that bespeaks the romance of Chicago at the turn of the century, even as its walls shed their paint in shreds? 
How 'bout this for a theme: MAPH NOIR!  In her excellent article Day into Noir, Ann Douglas writes, "Noir was a hybrid of glamour and grittiness… peopled with wised-up men and worldly women who had none of the right answers but all of the smart moves."  Come Friday May 27th, we will be the wised-up and worldly, the gritty and the glamorous.  We may have come through MAPH a little rougher for the wear, and sure, maybe we have some nostalgia for times before we got so smart, but we've still got that twinkle in our eye.
Over the next few posts, I'll attempt to provide a few sources of NOIR inspiration.  Because the question WHAT SHOULD WE WEAR? has been paramount in the office in recent days, let's start with fashion.  It was in the mid 1940's that the term film noir started being used to designate a specific category of films interested in, among other things, the dark underbellies of urban environments.  Some have marked the release of The Maltese Falcon in 1941 as the beginning of the noir genre, and while this may be an artificial designation, it does establish the 1940's as the quintessential period for film noir.
If you want to go '40s and female for prom, a basic 40's evening gown emphasizes the natural waist and often features strong, square shoulders.  Above is an example that I like.
In terms of hair do's, the victory roll was IN, along with more relaxed wavy looks (where were all the straight-haired ladies in the 40's?)  Here's a lovely short look, supposedly in imitation of French fashions.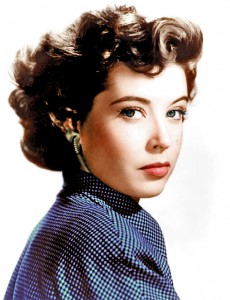 And here, for your viewing pleasure, is a short YouTube tutorial for doing Victory Rolls the quick and easy way:
Also, nothing says femme fatale like a veiled hat.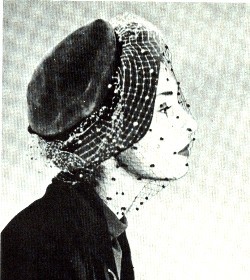 See what I mean?
And now let's turn our attention to some of the first ladies of noir.
And a few ladies of neo-noir:
I hope this gives you a feel for what we're working with.  Feel free to add your images/impressions of noir fashions below.  Next installment will be more focused on manly looks.  Fedoras galore!