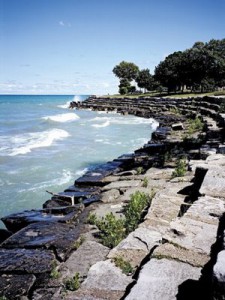 This was going to be a post about prom, which is in 2.5 weeks, and which will be a blast (seriously, you have no idea how much fun you're going to have) but honestly we're not there yet, and this time last year a blog post about anything but the thesis would have struck me as straight up annoying.  BUT, the thesis will be over and done with in two short weeks, and as nerve-wracking as that might sound, it also means you have something pretty spectacular to look forward to!
In the mean time, there are a few things I want to recommend, assuming the weather holds up.  First, head point-ward.  If you make plans – either with friends or with your superego – to hang out at the point with a beer in an opaque container of some sort, it means that you'll have a clearly demarcated time before then to get work done.  And after that, you have a guilt-free (and essential) break!  The best thing about living in Hyde
Park is easily the point, and now is the time of year to start congratulating yourself on the neighborhood in which you live (after cursing about it for 7 months).  Even if you can't get away from work, print out the thesis and bring it to the point with a beer, then mark it up with a pencil.  Just getting out side for a few hours will do wonders for your frame of mind, I promise!
For those of you in a position to head north, I want to plug the Pig.  The Bourgeois Pig is a cafe located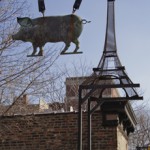 inLincoln Park just a few blocks from the Fullerton stop: it has outdoor seating, excellent food, tolerable coffee, and most importantly, they let you sit there FOREVER without even noticing you.  So if what you need is somewhere WITHOUT INTERNET where you can just order a small coffee and be left alone, this is your place, especially if you also happen to need to eat at some point (which is something you should not be forgetting to do).
Hang in there, we're in the home stretch!