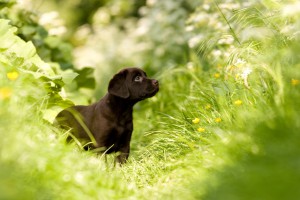 So we've come to the end of week ten.  And maybe you have thirty… forty… fifty! pages of writing to do before you can bid winter quarter adieu.  BUT don't despair!  Spring Break is just around the corner and the sun is waiting until almost six o'clock to set these evenings and we're Springing forward tonight and yesterday I saw a bright green stalk making its way out of the mucky snow.  Yes, there is more work to be done, but trust me, you can afford to take a few minutes to daydream about all of the liberating, life-giving adventures you will have over Spring Break.  Here, I'll help you.
If you're staying in Chicago over break, you should check out some or all of the following:
1.) The Chicago Cultural Center is holding an exhibition of photographs by Vivian Maier, a Chicago nanny who took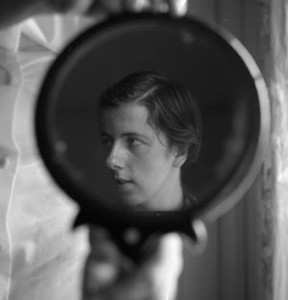 over 100,000 photographs in her lifetime and whose prolific work remained undiscovered for years after her death.  The exhibit contains about 72 black and white prints shot in the '50s, '60s and '70s.  According to Chicago magazine, "Most of Maier's photos are black and white, and many feature unposed or casual shots of people caught in action—passing moments that nonetheless possess an underlying gravity and emotion."  (Click here to read the entire article.)  This is something you should make a point to see over break especially because the exhibit, which has been up since January, will close on April 3rd.  Admission to the Cultural Center and the exhibit is free, and while you're there, you may as well check out their breathtakingly beautiful glass domes.  You can learn more about the Chicago Cultural Center at their website.
2.) Grab a sticky bun (and perhaps a loaf of sourdough for home) from Flourish Bakery.  Why make the trek all the way up to Andersonville for this?  Well for one thing, Flourish's master bread baker Ehsan Ganji has recently been featured in the Reader for his patient, no-knead process, in which he allows bread to ferment for a 12-18 hour period "building flavor rather than forcing it out."  Be sure to ask which breads are of the no-knead variety when you go.  From what I hear, the chili at Flourish is pretty unstoppable too.
3.) So I'm not going to be able to hide my weird Texas roots with this one, but nothing says Spring like some good ol' Western Swing.  Seriously, if you go hear the Hoyle Brothers at the Empty Bottle (they play there every Friday night from 5:30-7:30 pm for FREE) you will begin to understand the inadequacy of country music's mainstream representatives AND you'll have a helluva good time in spite of your misgivings AND someone just might teach you to two step, which is pretty much the easiest dance step around.  Go there and smile at a stranger.
4.)  Because Chicago may not be completely lush and blooming in time for Spring Break, you should take the Green Line to Garfield Park Conservatory.  When it was originally conceived by Jens Jensen in 1905, Garfield Park's was to be the largest publicly owned conservatory under one roof in the world!  It's simple structure was apparently designed to resemble Midwestern haystacks, though the effect of thriving gardens under glass strikes me as much more elegant. Inside and out, the conservatory occupies over four and a half acres where thousands of plants are grown for displays in the city's parks.  Admission to the conservatory is always free, and you can sit and breathe in the clean air of ferns all day long if you like.
5.)  If reading Deleuze left you with little time to see any of the Oscar-nominated movies this year, now is your chance to watch a few of them for really cheap at Logan Theatre.  Yes, the floor is a little sticky.  And the arm-rests don't have cup holders.  And maybe the ticket-taker is a little cranky.  Do not be dissuaded.  Logan Theatre is currently showing Blue Valentine, True Grit, and Black Swan, (and Yogi Bear, if you're a masochist) and somehow the tickets are like, two bucks.  I'm not sure how that works exactly, but it does.  And I am very glad.
6.) Okay, this is kind of an obvious one, but if you haven't visited Hull-House yet, it's time.  When Jane Addams and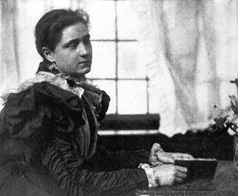 Ellen Gates-Starr opened Hull-House in 1889, they initially envisioned a place to offer artistic and literary education to their neighbors.  Their project quickly blossomed into a center for social engagement, education, and activism which was continually responsive to the needs of the surrounding community.  Today, Hull-House offers a number of ongoing programs aimed at social justice and enrichment, from their weekly "re-thinking soup" lunches to their "sex+++" documentary film screenings.  Click here to see upcoming events at Hull-House.  In addition to their ongoing programs, the entire second floor of the Hull home has been converted into a museum with all kinds of cool exhibits, including some of Ms. Addams childhood drawings, a collection of photographs by Wallace Kirkland, and Sonic Landscapes of Hull-House at the turn of the century.  Go learn about the lasting impact of Jane Addams' work in the city you call home.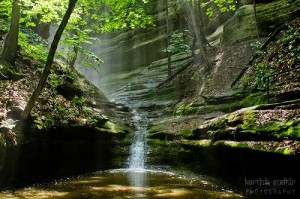 7.) For those of you who might be looking to make a day-trip, Starved Rock State Park is a short hour and a half drive south-west from Chicago.  Located in Utica, Illinois, the park contains 13 miles of trails, canyons, waterfalls, and views of the Illinois River.  Plus, you can bring your dog there if you have a dog.  Plus, apparently it's a popular winter hang out for bald eagles (so maybe a few stragglers are still around?)  Plus, it is totally free to enter the park!  We're coming out of our long hibernation period, guys.  Let's go outside!
Feel free to add your Spring Break recommendations to this list.  Regrettably, I haven't come up with a good place to go drink a beer this break, so I'll trust you all to fill in the many gaps.  Whatever you do, have a lovely, happy break!