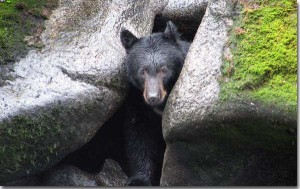 The sun is shining.  It's a balmy 37 degrees outside.  Give that heavy puffer coat a break, and dig out your old Fall jacket!  This would be a good time to start DOING THINGS again (beyond the necessary reading, sleeping, and coffee drinking, that is).  And while it can be great (truly sustaining!) to actually leave Hyde Park, the hibernators among us may need to move at a more bear-like pace.  Let's start by prowling around the neighborhood.  Here are some good things to do around campus and Hyde Park in the coming weeks:
This Wednesday (tomorrow!), Pulitzer Prize-winning novelist Marilynne Robinson is giving a lecture in the Max Palevsky Cinema in Ida Noyes, starting at 4:30.  Robinson is the author of three novels: Housekeeping, Gilead and Home. Her most recent book is a work of non-fiction entitled Absence of Mind: The Dispelling of Inwardness from the Modern Myth of the Self. Click here to learn more about this event.  Admission is free!
This Thursday, February 18th, Joelle Biele will be giving a reading from her book, Elizabeth Bishop and the New Yorker: The Complete Correspondence. Poem Present, the organization sponsoring the event, says that Elizabeth Bishop and the New Yorker "provides an unparalleled look into Bishop's writing process, the relationship between a poet and her editors, the internal workings of The New Yorker, and the process of publishing a poem."  The event will take place at International House starting at 6 pm.  (And just in case you're wondering, yes, it is free!)  Click here to read an excerpt from the book.
This Friday: Remember the Talent Show!!! With a little practice, you could probably work up something like this!  Or at least sway and clap along!  And to top it all off, there will be pizza!  This event will justify all of these exclamation points!
Next Tuesday evening, February 22nd, the Hyde Park Arts Center is hosting the Goat Island Dance film screening.  Goat Island is a Chicago-based performance art group featured in four short films which will be screened.  One of the collaborators on this project, Sarah Best, is a MAPH alum, and she'll be around to answer questions after the screening (along with co-collaborators Mark Jeffrey and Lucy Cash.)  So, this is an especially good event if you're interested in film, performance art, or curation.  And it's a good one to go to if you don't have much cash, because… it's free.  Here is the Goat Island website for your perusal.
Finally, on February 24th and 25th the Center for Latin American Studies will host a film series focusing on Cuban Directors.  The series, which is thematically aimed at questions about national film making in the digital era, will kick off on the 24th at 5 pm with screenings of The Hands and the Angel and They Exist (at the Franke Institute).  On Friday evening, the series will continue with a screening of Long Distance, which starts at 7pm at the Film Studies Center.  A MAPH preceptor and MAPH alum both worked on coordinating this series.  For more info, visit the series blog here.
Okay, one last little thing: we're having a CLOTHING SWAP on the afternoon of Friday, February 25th in Classics 110.  You can start picking through your closet now for stuff you'd like to give away.  This makes for a nice short homework break (depending on how many clothes you have, I guess.)  AND if you don't have anything to give away, come anyway and grab some new-to-you clothes.  And then you can take just as much joy in planning tomorrow's weather appropriate outfit as this little one.