Before we start recommending stuff that is beyond the confines of our beloved hamlet, perhaps a little info on how to get out of HP would be welcome.  Believe it or not, Hyde Park can get a little, well, nightmarishly claustrophobic.
Getting away to the North Side and farther afield will do wonders for your mental health.  And who knows?  You might actually meet someone not from the University of Chicago if you practice looking mysterious at the Bourgeois Pig, Art Institute, Green City Market, or Letizia Bakery every now and then.
Bear in mind, late night service to Hyde Park is limited to the Red and Green Lines (see below reasons not to take the Red and Green Lines) Other than that, you can take a cab.  If you have four people, cabs from the North Side back to the neighborhood cost around $25–roughly the same cost as public transit.  If you're farther away in Wrigleyville or Logan Square, you're looking at $30-$35.  Splittable, but a big time bummer if you're on your own.  The point here: cabs with a group of fellow MAPHers are more affordable than you would expect, and definitely worth it as an alternative to the oft-scary late night El ride.
To find the easiest route use Google Transit.  CTA and Metra systems link up nicely.  But here is some info to start with:
Option 1: The Bus
During rush hours, there are several delightfully convenient ways to get up north.  The #2, 6 express, 10, and 28X all service various parts of HP.  Check out CTA's incredibly accurate Bus Tracker, which provides useful information about where the 6 has broken down, the cause of the maintenance problem, and how many hours you're going to have to wait for the next bus.  There's even an iPhone ap!
Positives: Buses run often and from more places in Hyde Park than you can shake a stick at.  There is service from the Loop to HP until midnight or a little after.  As Phil likes to point out, transfers are only 25 cents once you get up north:  "You can get anywhere in the city for $5 round trip!!!!!!!!!!!!!!!!!!!!!!!!!!!"
Negatives: Buses just kind of suck categorically.  Traffic can *sometimes* be miserable, especially in the afternoon when you're trying to, totally hypothetically, get to your happy hour date at The Wit.  The express buses take longer than the train, even with clear traffic.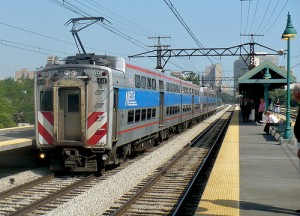 Option 2: Metra Electric
If you happen to live near one of the three Hyde Park Metra Electric district stations, you win!  The train is a quick 15 minute shot to Millennium Station.  From there you can transfer to CTA.  But bear in mind, you'll pay through the nose if you're not careful.  It's a manageable $2 each way IF you buy a 10-trip pass.  A transfer to CTA is not included or discounted, given that you will need a separate ticket to ride Metra.  Avoid buying single tickets (they cost $2.25), and NEVER EVER EVER buy your ticket on the train.  The service charges are not pretty, and the conductors always take the liberty of reminding you that you're an idiot while you're buying them.
Positives: Fast, same price as the bus if you buy a ten trip.  AND YOU CAN RIDE UPSTAIRS!  (No joke, you'll feel like a kid again)
Negatives: No transfer to CTA, and there's an opinion out there (even among certain unnamed MAPH staffers) that the train is only for dilettantes and oil barons.  The schedules can be difficult to navigate.
Option 3: The El
Here's the thing.  The El in most neighborhoods in Chicago in general is *the* way to get around.  And usually the Red Line to Hyde Park is fine.  Especially during the day.  But sometimes it's not even okay during the day.  And if you ask me, it's never okay at night.  Think at least three times before you use the El to go North from HP or to get back home.
If you want to ignore all of that, you can get to the Garfield Station on the #55 bus West or walk to the Green Line at 63rd and Ashland.  You'll get into the city relatively quickly (to be honest, the bus is as efficient as the train).  The more I type here though, the more I just think it might be enough to say: it's best to stick to Options 1 and 2, almost always, and nearly without exception at night.
And, if you're stuck up north with only $2.25 and you need a way back, there is a FREE University of Chicago Shuttle on weekends that runs until 3:30 AM.
Positives: Get that "real" Chicago experience.
Negatives: Often scary times infinity.  Period.
If you have questions about this stuff, just ask.  Amelia, Phil, and I are transit experts, and also really cheap.  No one likes to pay for cabs.
No one.