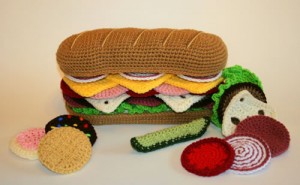 Two upcoming (and exciting!) ways to learn from Alumni:
Go to the panel discussion tomorrow! Drew has rounded up a whole herd of awesome Chicagoland Alums who do interesting things and want to talk about them. They will talk to you about them at 1:00 and then come to social hour. There will be delicious sandwiches at social hour. Please note: the image above is in no way representative of those sandwiches, but it is awesome.
BUT if you are busy at 1:00 tomorrow, you can
Read an article by a MAPH alumna about another MAPH alumna! For this month's Tableau Magazine Emily Riemer '09 has written a profile about Justine Nagan '04 that discusses her work as a documentary filmmaker, focusing on her 2009 documentary Typeface, a project that involved even more MAPHers: she collaborated with Starr Marcello, Tom Bailey, and Brendan Kredell, all '04.