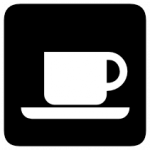 Nancy Astor: "If I were your wife, I would put poison in your tea."
Sir Winston Churchill: "And if I were your husband, I would drink it."
When I was getting ready to move to Hyde Park last summer, I started reading up on the area and came across a horrifying little comment on some website someplace: "There are NO good coffee shops in Hyde Park." As someone who enjoys various study atmospheres for various tasks (library for research, home desk for papers, and coffee shops for nearly everything else) I panicked.
I have the good fortune to tell you that there ARE, in fact, coffee shops in Hyde Park, and some good ones at that. Here is a fairly comprehensive list. As I'm sure you have already begun to become acquainted with the coffee shops on campus, I'll keep my list to the spots that are off-campus but still within walking distance.
Third World Café
1301 E. 53rd St. (Kimbark and 53rd)
M-F 7:00 am- 7:30 pm
Sat 8:00 am- 7:30 pm
Sun 9:00 am – 4:00 pm
Everyone has her own relationship with this place. Some love it, some can't stand it, and I fall somewhere in between. Third World is an independent coffee shop with a very friendly owner and a helpful, if quirky, staff. On one early morning visit, the barista greeted me with a mournful look and said, "Today is a day of death and destruction. What can I get you?" I mean, it kind of was, so there you go.
The offerings here include hot and iced coffee, espresso and espresso drinks, teas, baked goods, and a selection of sandwiches, salads and soups. I have found the drinks to be fairly reasonable and pretty good. The food, while tasty, is over-priced. I feel like I can make most of what's on the menu for about a quarter of the price. A good way to go if you want to settle in and study for a while but have limited funds is to get either black coffee or a cup of tea. That purchase should allow you to stay indefinitely.
The interior is kind of bare, but there are lots of tables and outlets for computers. The atmosphere is pretty quiet and studious. There have been times when I met a friend there to catch up and we were the only two people talking… kind of awkward, but really nice if you are there to read. The music is typically pretty chill, often classical radio on weekday mornings.
Istria Café
Two Hyde Park locations:
1520 East 57th Street (57th Street under the Metra tracks)
M-F: 6:30 am – 8:30 pm
Sat: 7:00 am – 8:30 pm
Sun: 7:30 am – 8:30 pm
5030 South Cornell Ave. (51st and Cornell, inside the Hyde Park Art Center)
M-F: 6:30 am – 8:30 pm
Sat: 7:00 am – 8:30 pm
Sun: 7:30 am – 8:30 pm
Both cafés offer similar options. They serve Intelligentsia coffee and espresso drinks, baked goods, panini, and gelato. The gelato is very tasty. Yum.
The 57th street Istria is pretty small. It is a good place to grab a coffee before hopping on the train and heading into the city. It is also a good place to get gelato on your way to or from the lake. A word of warning: the gelato cups look tiny and it seems like a good idea to get a medium or a large, but the staff members fill those cups up so much that even a medium is a really substantial, meal-size amount of gelato. If you want gelato for dinner, go for it. Otherwise, start with a smaller size. I myself would never go here to get work done, or even for pleasure reading- it's just too loud under the train tracks and next to the busy road. But if that does it for you, give it a shot. I always see one or two people with their laptops, so evidently it works for some.
The Cornell Istria is much larger and is a really cool spot, given that it is attached to the Hyde Park Art Center. I like to snag one of the back tables and have a massive café au lait while reading. The music here can be dicey (read: techno) so bring headphones. Love this place, it is cozy in the winter and there are tables outside in the summer. Also a good place for a date- coffee then a walk through the art center. Just saying.
Z and H (Zaleski and Horvath)
1126 E. 47th Street (47th and University)
Weekdays 7:00 am – 7:00 pm
Weekends 8:00 am- 6:00 pm
Oh, I knew about this place for months and months and never went because it was on 47th Street. Then I went, and now I am SO SAD that I was in the dark for months and months.
This place is amazing. It is a beautiful hybrid of coffee shop, sandwich café, Italian market and bakery. Sandwiches are a little pricey but they are worth it. You can select any of the wonderful combos that Z and H have put together or you can create your own. There are also breakfast sandwiches, which are amazing and much cheaper than the lunchtime options. I really like the Nordalbingia: egg, Emmental cheese and roasted tomato on challah. You see? Aren't you on your way up there right now?
There are tables inside and out. It is a particularly great spot to sit outside on a nice day with friends.
In addition to the sandwiches and coffee (also Intelligentsia), this place has an impressive array of cured meats, cheeses, a small but excellent selection of produce, and some great Italian products: spices, pastas, European candies, ice cream and so on. The staff is helpful and knowledgeable without making you feel inferior at all. Rather, they are delighted that someone else wants to talk about the differences between buffalo mozzarella and mozzarella made from cows milk, or jamon iberico vs. proscuitto. Even if the prospect of this conversation does not bring you as much joy as it does me, Z and H is a great place to sit and have a cup of coffee.
Bonjour Café and Bakery
1550 E. 55th Street (55th and Harper)
T-F 7:00 am – 7:00 pm
Sat. 7:00 am – 6:00 pm
Sun 7:00 am – 5:00 pm
Closed Monday.
Lovely, lovely, lovely. My friends and I call this little area the French quarter of Hyde Park. There is a courtyard with a fountain and tables all around where you can sit and enjoy your up of coffee and a truly delicious croissant. This bakery has some of the best French pastries in Chicago and the courtyard really does have a European air about it. Across the way from Bonjour is a fancy French restaurant, a shoe store and a post office. This is a very safe area- it is patrolled constantly by security guards.
Bonjour also has sandwiches, panini, and soups. Very tasty, pretty reasonable. I really like the goat cheese panini.
Backstory Café
6100 Blackstone (Blackstone and 61st)
M-S 8:00 am – 6:00 pm
For those of you living south of the midway this is a little gem nested among a pretty residential area. Backstory is a tiny, cozy little spot with slow drip coffee, amazing sandwiches (with great veggie/vegan options) and bookshelves full of cool reading material. The café doubles as a social center and hosts discussions on contentious academic and social issues, as well as live music and film screenings. I love it here, and only come infrequently because it is far from my house. Free Wifi. Good place to read or to chat.
Starbucks
Two locations:
1500 E. 53rd St. (Harper and 53rd)
1174 E. 55th St. (55th and Woodlawn, next to Jimmy's)
You know what Starbucks is. Both have indoor and outdoor seating. Fun fact: you can buy the New York Times at Starbucks.