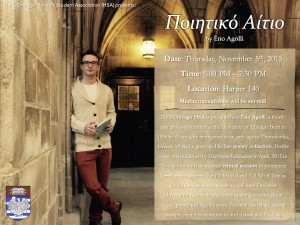 Eno Agolli is a 21 years young poet and student in UChicago majoring at philosophy. He was born in Korytsa, Albania and when he was three years old settled with his parents in Thessaloniki, Greece, where he finished the High School "Anatolia" with a scholarship. He speaks five languages and Ποιητικό Αίτιο is his first poetic collection published in Greece by the publisher Enteuktirio. The HSA created an event, where Eno read his poems in Greek and in English as well and Chrysanthi Koutsiviti presented his work.
Eno Agolli: Ποιητικό Αίτιο, a presentation by Dr. Chrysanthi Koutsiviti
Poet, poem, poetry: exactly in  this order. All three are Greek words meaning creation.
Very old words. So old as the art of poetry, which takes the form of Homeric verses very early in 800 B.C.  So, Odysseus opens the scene for the odyssey of poetry and the long tradition of it in the Greek language.
Homer ' s epics were written in verses. Greek tragedy was written in verses. Byzantine hymns were written in verses. Folk songs from 1000 A.D. were written in verses by unknown poets and still today in Crete people create verses to express  every day situations or to have fun. Poetry never stopped being written in Greek and never stopped enriching the Greek language with new words, new meanings, new forms in structure.
I insist on speaking about the language, because in poetry words are the means through which the poet expresses his ideas and creates his poetic universe; words are to judge the poetic result: poetry. Ideas may be introduced also by social sciences, politics, philosophy, but the choice of words is making the difference and creates poetry in the end.
A Greek poet of today carries the words of 3000 years. A language especially cultivated through poetry turns to be very demanding but also a tool full of words with subtle shades in the meanings.
In Eno 's poems you may see the tradition of Greek poetry. Words with metaphorical meanings, words with hidden meanings, ancient Greek words and phrases used as spells in some poems reveal a particularly rich poetic language.
Eno, although he is pretty young, has travelled and also studied a lot, so that he possesses a remarkable for his age amount of the European literary tradition. So, he expresses himself with references to other poets like Pessoa from Portugal, Lorca from Spain, T.S. Eliot from Great Britain, Philip Larkin from Great Britain as well whom he contradicts writing a whole poem as an answer to Larkin 's poem about people in Dublin, Ireland.
And we should mention his love for the famous French author Marcel Proust to whom he allusively refers most, including words or even naming characters from his famous novel ''A la recherche du temps perdu'' (In search of lost time).
Eno writes also words, phrases and whole verses in English with a remarkable poetic mastery, reversing meanings:
''I 'll let you own my mistakes'' (αστικά ορατόρια) playing with the word ''own'' which in the context ''your own mistakes'' means ''your mistakes'', but also ''to own'' means ''to possess''!
Another dominant topic in Eno 's poems is lands and places: he spreads all over many cities around the world, present and past: Chicago, Kyoto, Thessaloniki, Boston, Montreal, Milwaukee, Alexandreia, Istanbul, Bagdad, Italy, Babylon, Dublin, Bogota, Buenos  Aires.
And places: Regenstein, Promontory point, Harper Memorial, Wiebold, Gates-Blake, Oxford, Ganges the sacred river, Travemunde 1880, Piazza Navona.
In his poems you may read the following languages apart from Greek: English, French, Portuguese, Albanian, Latin, Ancient Greek, Greek of hellenike koine, the language of the new testament. All these languages coexist harmonically with the Modern Greek, the main language, and in a magical way that only Eno 's subconscious knows enlighten the main Greek words.
A last comment on the topics of  these poems:
This poetical collection in my opinion speaks about becoming an adult. The ablactating from mother –in the poignant poem ''Motherfucker'', love and pleasure, frustration, friendship, loneliness, time, the present and the future, everything that makes you become an adult is there: and in this case an adult means a heavily injured person, but also a person ready, mature enough after all  to deal with a world  that provokes injuries.
All in all I want to introduce to you the poet Eno Agolli using the words that Kostis Palamas, who was adored by the Greeks as their best poet ever, wrote in 1937, being already 80 years old, for Yannis Ritsos, who at the time was 27 and had just published his first poems, which he was writing from the age of 19 years:
«Παραμερίζουμε ποιητή για να περάσεις» meaning ''We set aside, poet, for you to pass forward''.