This month, we discuss race and cognitive science with Bryce Huebner, associate professor of philosophy at Georgetown University. Click here to listen to our conversation.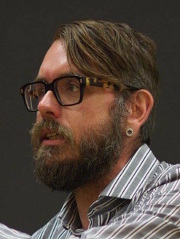 Of course, we as individuals can be racist. Of course, so can our institutions. But when do we realize this, so that we might get something done about it? In this sense, two years ago, we here at the University of Chicago found ourselves "ahead of the curve."
A year before Yale made national headlines following some students' racist Halloween costumes, our school had strikingly similar trouble. Two years ago, for Halloween of 2014, a few UofC students dressed up as Mexican gangsters. Two Latino UofC students, Vincente Perez and Jamie Sanchez, then publicly called out the costumes as racist. The gangster-dressing student Perez first noticed went on to apologize publicly, but by then, Perez and Sanchez had developed their calls around such individuals into calls around their institution, their university. For instance, in the short term, Perez and Sanchez, and almost 2,500 petition supporters, called on the University to survey the campus about its climate around racial, ethnic, and other identities. And in the long term, they called on the University to diversify its core curriculum and faculty. A year later, then, as Yale and a slew of other schools saw protests, the University of Chicago saw relative calm. Though the University had not agreed to most of Perez and Sanchez's calls, it had launched a survey of its campus's climate, hopefully with an eye to larger reforms. (Survey results are to be released in the coming months.)
So where is philosophy amidst such challenges? And: What should it (we) do about them? For starters, philosophy, be it in its faculty or its curriculum, is increasingly known to be the least diverse discipline in the humanities. Calls around individual philosophers' attitudes towards races and other identities, and around their institutions' attitudes, are especially pressing for our work. Then how should we, say, diversity our curriculum (and how shouldn't we)? More fundamentally, how should we relate our discipline's challenges to larger ones — ones that our universities face, and indeed, having just observed the Fourth of July, ones that our country faces?
Thus as you listen to Prof. Huebner discuss philosophy with cognitive science on race, keep in mind examples like those just discussed, and others about your department, university, and country. And then, heck, go and do something about it!
Dominic Surya