Contempo Double-Bill with The Chris Potter/Kenny Werner Duo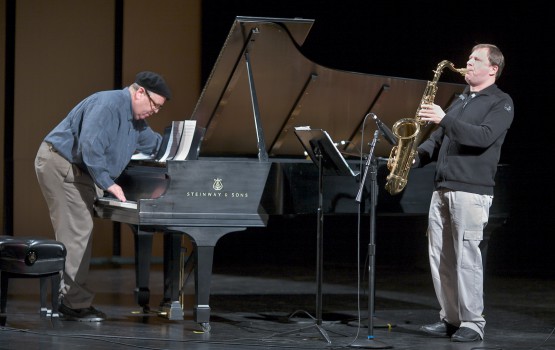 01.16.2010
Saturday, 7:30 pm
Harris Theater for Music and Dance
205 E. Randolph
harristheaterchicago.org

This event has passed.
Shulamit Ran, artistic director
Cliff Colnot, conductor
eighth blackbird
Susanne Mantzer, mezzo-soprano
Chris Potter/Kenny Werner Duo
Shawn Brogan Allison: Towards the Flame
Bernard Rands: "now again" – fragments from Sappho
Yu-Hui Chang: Binge Delirium for solo percussion
Kurt Weill: September Song
Acclaimed mezzo-soprano Susanne Mentzer joins Contempo and guests for a performance of Bernard Rands' glowing "now again" – fragments from Sappho. The distinguished composer's 10- member ensemble piece, a poignantly masterful tale of love and loss, is flanked by Shawn Brogan Allison's haunting towards the Flame and Yu-Hui Chang's Binge Delirium, a dazzling percussion solo. In the second half, jazz giants Chris Potter and Kenny Werner reunite for a one-time-only evening of improvisational "chamber music" you won't want to miss!
Contempo's 45th Season Brochure
This program is a part of Contempo's 45th Season.
Featured Artist(s): Chris Potter/Kenny Werner Duo, Cliff Colnot, eighth blackbird, Susanne Mantzer