Spektral Quartet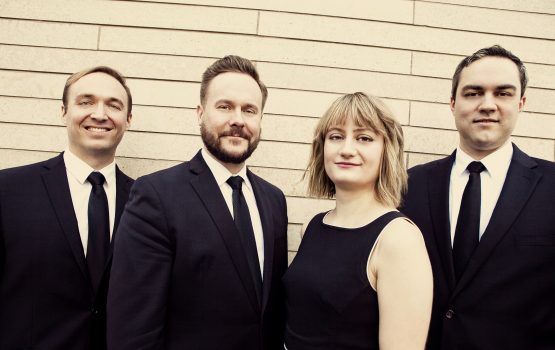 Spektral Quartet
Tomorrow's Music Today, May 5
Austin Wulliman, Violin
Clara Lyon, Violin
Doyle Ambrust, Viola
Russell Rolen, Cello
Spektral Quartet actively pursues a vivid conversation between exhilarating works of the traditional canon and those written this decade, this year, or this week. With its most recent album described by Gramophone as "highly-interactive, creative and collaborative…unlike anything its intended audience—or anyone else—has ever heard," Spektral is known for creating seamless connections across centuries, drawing in the listener with charismatic deliveries, interactive concert formats, an up-close atmosphere, and bold, inquisitive programming.
2016 saw the release of Serious Business (Sono Luminus), the foursome's most ambitious recording project to date, and a major tour of Beat Furrer's epic, hour-length "String Quartet No. 3", both of which garnered rave reviews in major international publications. "A delirious new record," (Alex Ross), Serious Business is an intrepid exploration of the many-sided face of humor in classical music, featuring vibrant premieres by stunning young composers Sky Macklay, David Reminick, and Chris Fisher-Lochhead, paired with a centuries-old gut-buster, Haydn's Quartet Op.33 No. 2, "The Joke." The quartet's multi-city tour of Beat Furrer's "String Quartet No. 3" and Bagatellen, a new work by Hans Thomalla, "proved that they [the quartet] have everything: a supreme technical command that seems to come easily, a capacity to make complicated music clear, and, most notably on this occasion, an ability to cast a magic spell…" (New York Times).
At home both in and out of the concert hall, Spektral Quartet enthusiastically seeks out vehicles to bring classical music into the sphere of everyday life, prioritizing immersion and inclusivity through close-proximity seating and intimate, unconventional venues. Major upcoming projects in the quartet's native city include the Chicago premiere of Morton Feldman's notorious six-hour String Quartet No. 2 at the Museum of Contemporary Art, multiple appearances at the inaugural Ear Taxi Festival, a youth-oriented interactive tour of Chicago in partnership with the Chicago Parks District, the recording of new works by composer Anthony Cheung, and a major new initiative on Chicago's South Side in collaboration with multidisciplinary artist Theaster Gates. The 2016–17 season will also see dynamic new programs pairing works of Ravel, Beethoven, and Mendelssohn with the voices of emerging composers, and new works by George Lewis, Augusta Read Thomas, Samuel Adams, and Tomeka Reid.
The ensemble is regarded for forward-thinking endeavors such as Mobile Miniatures, which rallied more than forty composers from across the nation, including David Lang, Augusta Read Thomas, Nico Muhly and Shulamit Ran, to write ringtone-length pieces available for download to mobile devices. As ardent advocates for new music in their home city, the group recorded its debut album, Chambers (Parlour Tapes+), in 2013, featuring works by dynamic, Chicago-based composers. Other discography includes a recording with Third Coast Percussion of Selene, an octet by Augusta Read Thomas for the album Of Being Is a Bird(Nimbus Records); and From This Point Forward (Azica Records), an exploration of nuevo tango and Latin jazz with bandoneon virtuoso Julien Labro. It is central to Spektral Quartet's mission to cultivate a love of, and curiosity for, unfamiliar sonic territory and exceptional works of the past among the next generation of string players. Currently ensemble in-residence at the University of Chicago, the quartet has also participated in residencies at the New World Symphony, Stanford University, Northwestern University, University of Wisconsin— Milwaukee, and the Walden School, among others.