Ralph Shapey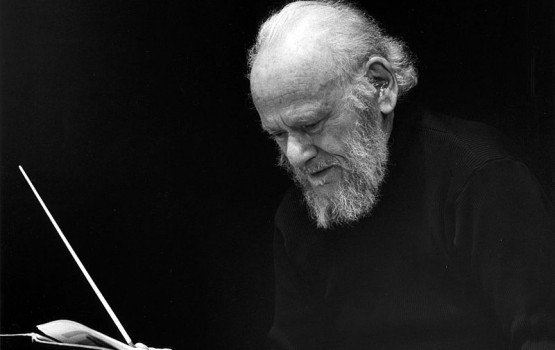 Ralph Shapey
Founder, Music Director (1964-1994)
Born in Philadelphia on March 12, 1921, Ralph Shapey began musical training in violin at age 7. At 16, he began studying violin with Emanuel Zeitlin and embarked on composition studies with the German composer Stefan Wolpe. Only a year later he was appointed as youth conductor of the Philadelphia National Youth Symphony Orchestra, and by 21 he was appearing as a guest conductor for the Philadelphia Symphony Orchestra. Although Shapey graduated from public high school in 1939, he received no other formal education. In 1945 he moved to New York, where he absorbed the influence of Abstract Expressionist painters, working first as a freelance violinist, then as a composer, conductor and teacher.
Though Shapey accepted a conducting position at the University of Pennsylvania in 1963, he moved to the composition faculty of the University of Chicago as a Professor of Music just a year later. It was during his first year in Chicago that Shapey founded the Contemporary Chamber Players, serving as both its music director and conductor for almost the next 30 years. As a composition professor, he taught many eminent composers, including Pulitzer Prize winner Shulamit Ran, now the Artistic Director of Contempo and a Professor of Music at the University of Chicago.
Shapey wrote more than 200 works, receiving commissions from such distinguished organizations as the Fromm Foundation, the Library of Congress-Elizabeth Sprague Coolidge Foundation, the Koussevitsky Foundation, the National Endowment for the Arts, the Philadelphia Orchestra and the Chicago Symphony Orchestra, and was the recipient of numerous awards and honors, among them the George Gershwin Award, a MacArthur Fellowship, a Friedheim Award, the Brandeis Creative Arts Award, a National Foundation of Arts and Letters Award and over a dozen ASCAP awards. He was elected to the American Academy and Institute of Arts and Letters in 1989 and to the American Academy of Arts and Science in 1994.
As a conductor, Shapey led numerous ensembles, including the Chicago Symphony, the Philadelphia Orchestra, the Jerusalem Symphony, the London Symphony, the London Sinfonietta and the New York Philharmonic Chamber Music Society. He is the author of A Basic Course in Music Composition, published by Theodore Presser, and is recorded on the CRI, Opus One and New World record labels. Shapey died on June 13, 2002.