Ensemble Dal Niente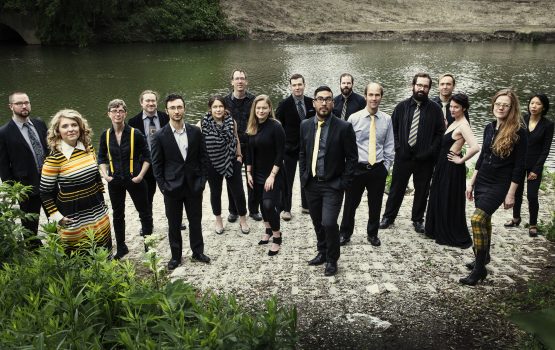 Ensemble Dal Niente
Five From Afar, April 9 / Tomorrow's Music Today, May 5
Noted for its presentation of "bracing sonic adventures" (Chicago Tribune), Ensemble Dal Niente, "a superb contemporary-music collective" (The New York Times), aims to drive musical discourse with adventurous projects that exhibit an ambitious range of aesthetic values tied to contemporary life and culture. The ensemble performs music written for large ensemble, chamber music, and solo works, each with relentless attention to interpretation. Dal Niente works with a range of composers, from emerging and established living artists to the post-World War II avant-garde generation. Recent projects include a collaboration with Deerhoof and Marcos Balter; a tour of Latin American countries; performances and recordings of works by George Lewis; an East Coast tour of German music; the Hard Music, Hard Liquor concert series and its annual Party. With each project, programs are curated and presented in ways that highlight the music's relationship with our culture and society.
The ensemble's introduction to the international music community was expedited by their acclaimed performances at the Darmstadt Summer Courses for New Music in 2010 and 2012; in 2012, Dal Niente became the first-ever ensemble recipient of the coveted Kranichstein Music Prize and was invited to give the 2014 festival's culminating performance in Darmstadt, Germany.
Recordings of Dal Niente's performances of new and recent repertoire have been released on the New Amsterdam, New Focus, Navona, Parlour Tapes+, and Carrier labels. The ensemble also shares performance videos and discussions with their audience through YouTube and other social media.
Dal Niente's outreach includes educational activities of all kinds, exhibited most commonly in university settings with composition workshops, masterclasses, discussions, and performances. The ensemble's residencies have included work with faculty and students at various universities including Northwestern, Chicago, Harvard, Stanford, Indiana, Illinois, and Western Michigan, among others.
The ensemble's name, Dal Niente ("from nothing" in Italian), is a tribute to Helmut Lachenmann's Dal niente (Interieur III), the revolutionary style of which serves as an inspiration for its musicians. The name also references its humble beginnings — founded in 2004 by a group of student composers at Northwestern University, the ensemble has risen from obscurity to a position as one of North America's most prominent new music groups.
Michael Lewanski, Conductor
Aanda Deboer Bartlett, Voice
Carrie Henneman Shaw, Voice
Constance Volk, Flute
Emma Hespelhorn, Flute
Alejandro Acierto, Clarinet
Katie Schoepflin, Clarinet
Andrew Nogal, Oboe
Austin Wolliman, Violin
Minghuan Xu, Violin
Tarn Travers, Violin
Doyle Armbrust, Viola
Ammie Brod, Viola
Chris Wild, Cello
Mark Buchner, Double Bass
Matthew Oliphant, Horn
Ben Melskey, Harp
Jesse Langen, Guitar
Mabel Kwan, Piano
Winston Choi, Piano
Gregory Beyer, Percussion
Peter Martin, Percussion