eighth blackbird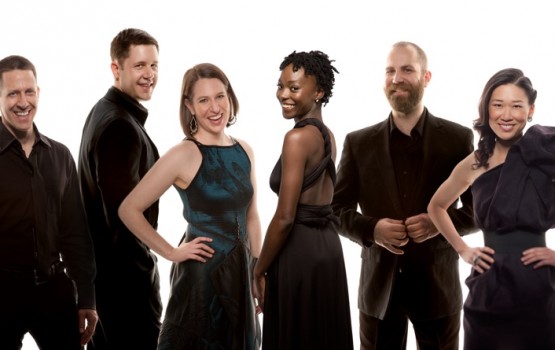 Ensemble-in-Residence
Nathalie Joachim, flutes
Michael J. Maccaferri, clarinets
Yvonne Lam, violin & viola
Nicholas Photinos, cello
Matthew Duvall, percussion
Lisa Kaplan, piano
eighth blackbird's "super-musicians" (Los Angeles Times) combine the finesse of a string quartet, the energy of a rock band, and the audacity of a storefront theater company. The Chicago-based, three-time GRAMMY Award-winning sextet has provoked and impressed audiences for 20 years across the country and around the world with impeccable precision and a signature style.
One the industry's most formidable ensembles, eighth blackbird (8bb) began in 1996 as a group of six entrepreneurial Oberlin Conservatory students and quickly became "a brand-name…defined by adventure, vibrancy and quality….known for performing from memory, employing choreography and collaborations with theater artists, lighting designers and even puppetry artists" (Detroit Free Press).
Over the course of two decades, 8bb has commissioned and premiered hundreds of works by dozens of composers including David T. Little, Steven Mackey, Missy Mazzoli, and Steve Reich, whose commissioned work, Double Sextet, went on to win the Pulitzer Prize (2009). A long-term relationship with Chicago's Cedille Records has produced six acclaimed recordings and three impressive GRAMMY Awards: for strange imaginary animals (2008), Lonely Motel: Music from Slide (2011) and Meanwhile (2013).
8bb's mission extends beyond performance to curation and education. The ensemble served as Music Director of the Ojai Music Festival (2009), enjoyed a three-year residency at the Curtis Institute of Music, and holds ongoing Ensemble-in-Residence positions at the University of Richmond and the University of Chicago. The 2015-16 season brings a lively residency at Chicago's Museum of Contemporary Art, featuring open rehearsals, an interactive gallery installation, performances, and public talks.
eighth blackbird's members (Nathalie Joachim, flutes; Michael J. Maccaferri, clarinets; Yvonne Lam, violin & viola; Nicholas Photinos, cello; Matthew Duvall, percussion; Lisa Kaplan, piano) hail from the Great Lakes, Keystone, Golden, Empire and Bay states. The name "eighth blackbird" derives from the eighth stanza of Wallace Stevens's evocative, aphoristic poem, Thirteen Ways of Looking at a Blackbird (1917). eighth blackbird is managed by David Lieberman Artists.