Scribbling, Writing, and Rapping: An Interview with Jon Westhoff and Sean Akins
Q&A by Morgan Podraza
Jon Westhoff, one of the co-creators of the independent comics publishing company King Bone Press, is the author of Apocalypse…Meh and The World's Strongest Mailman and has contributed to three comics anthologies—Bulletproof Chicken, Low Concept, and Bandthology.
Sean Akins is the owner of Brainstorm Comics, which is located in Wicker Park's Flatiron Building at 1579 N. Milwaukee Avenue. Also known as Cochise Soulstar, he has four albums and is currently working on the third installation of a music trilogy that draws the tropes of classic radio drama. 
When I sat down with Jon and Sean at Brainstorm Comics, I had the opportunity to speak with them as they played Magic the Gathering and drank beer on a cloudy Sunday afternoon. We spoke about the Indie Comix Expo (ICE) as well as the importance of collaboration, the creation of independent comics, and the relationship between comics and music.
After the interview on February 15th, 2015, I had the awesome experience of attending the wildly successful Indie Comix Expo on April 24th, where I met comics creators, bought independent comics, and heard Cochise Soulstar perform.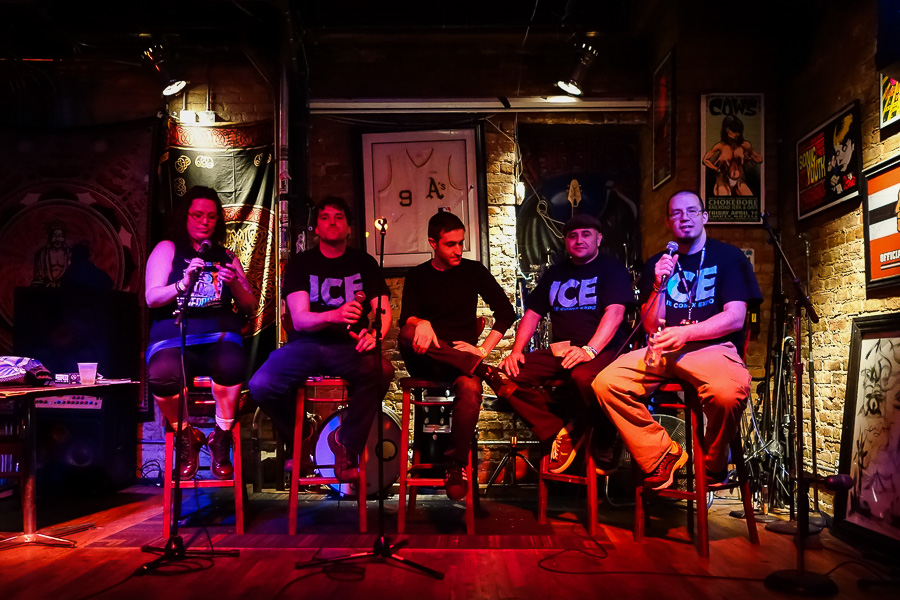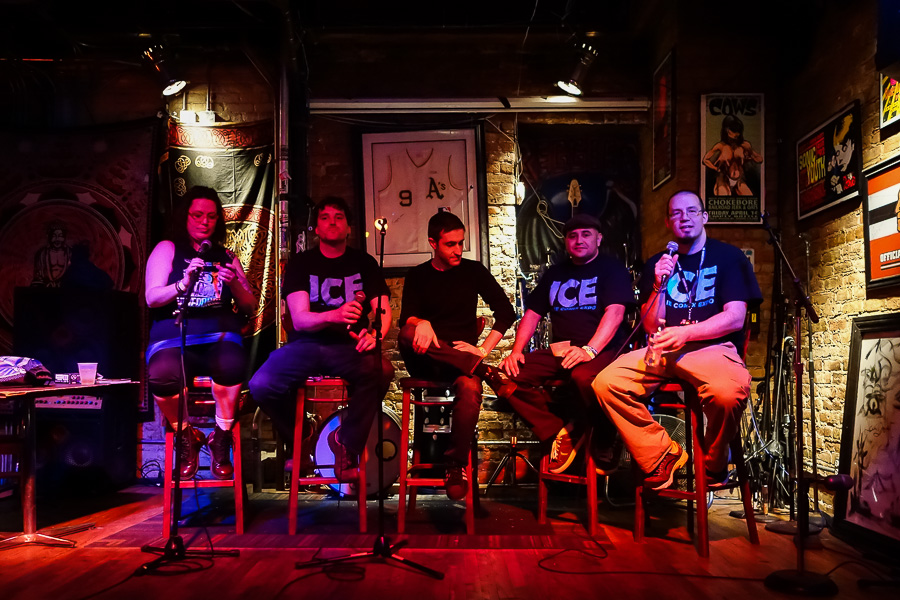 Morgan Podraza: Sean, you're the owner of Brainstorm Comics—a shop that is unlike any other comics shop. What makes this shop unique?
Sean Akins: First, we have a large selection of cult and horror cinema that includes a rental service. Second, all of our comics come bagged-and-boarded, which a lot of comics shops don't do, and we don't require a minimum number of books to be a subscriber. You can have a pull-list of one book and still get a discount, and that discount extends to everything on the shelf.
MP: Why do you think it's important to have a comics shop like Brainstorm in Chicago?
SA: Because we're different. We're like a haven. Right now we're playing Magic the Gathering in the middle of the day, and just hanging out. We are really all inclusive, whatever your nerd-a-tude and geek-a-tude is, it's welcome here.
MP: Do you host any other events at Brainstorm?
SA: We do the "Yeah Buddy Awesome Time" Comedy Show here twice a month at night on Saturdays. It actually got written up by Time Out Chicago as the second best comedy show in the city right now. We also have local punk bands play here and local hip-hop artists.
MP: Speaking of music, you're going to be performing at the Indie Comix Expo (ICE) as Cochise Soulstar. Would you tell me about your music?
SA: I guess I've been emceeing for a long, long time. I know that I get thrown in the "nerdcore" category a lot because of the content of my music, but it's just fun hip-hop. I never talk about things that I don't have or am not—well I guess I do because I talk about spaceships—but it's not what you hear on the radio. I just get up there and I have fun, I put myself into the show. I try to give the crowd a good time.
MP: A lot of your music uses soundbites from science fiction films or television, and you describe yourself as "nerdcore" or "hip-hop science fiction." Can you talk to me about your sampling and these descriptions of your music?
SA: The sampling came via my producer, T-White. We kind of had this idea that we would make an old-school radio adventure, and that's where the idea of Cochise Soulstar versus the Future came from. I was a Buck Rogers type: I got flung far into the future, and I don't like what I see. Every song is about me leading this mock-revolution against the forces of the future. The sampling is just for fun. We kept that theme throughout "The Herc Manual," and it was the same adventure but the darker side of it. It was like "This future is depressing, and I'm going to tell you about it." The last song was supposed to go from "oh man, this future is dark" to "we can pull out." We're working on the third in the series, and that would be like Star Wars New Hope, Empire, Jedi. It's kind of how it's running.
MP: Do you feel like its a commentary on the contemporary moment?
SA: Definitely. Being a guy who was raised in the late 80s and early 90s, I'm a hop-hop purist. When I turn on the radio, I have to ask myself: When did it become all about bitches? When did this happen? My music is definitely indicative of that tone because I listen to the radio, and Iget physically upset. I want to retch because it's horrible.
MP: In the last few years, we have seen comics published with playlists and, with the abilities of digital comics, web-comics published with music. What do you think the relationship is between comics and music?
SA: I think the two are never mutually exclusive for anybody. I'm sure most writers and artists have playlists. Phonogram was great because they put in what they were listening to at the time, and I've seen artists and writers on Twitter saying what they're listening to while they're working. They mention it all of the time. Music has no boundaries, though, much like comics. It's just a different platform. The landscape is infinite—you can do whatever you want. We've seen creativity in music for forever now. We saw it in the 70s. Kiss was like a comic book of themselves; they were caricatures of themselves. Bowie was a different person every album. I think it's all the same, and I think that in relation to comics it's about being what you want to be. You can reflect how you see yourself on the inside whether through music or on the page. I think it's just the same ideas, different landscape.
Jon Westhoff: I would agree. Whether it's one person or five people making music, it's the same thing as a creative team on a comic. People can get together and jam out this comic or jam out this album, and then you have something that you've created. To me, comics and music are very similar.
At King Bone Press, we made a comics anthology that was all about music called Bandthology. As somebody who played in bands in the past, I find that my passion for music is still there, and I tried to put that passion into the anthology. Like Sean said, most people you see enjoy both and are passionate about both. That's part of the reason for the anthology. I found so many people that were involved, and it was like "oh you used to be in a band?" or "oh you rap?" It was interesting to see how many people were also into comics, and we wanted to celebrate that. I am really proud of the comics that came of that.
For comics in general, I'm a sucker for things like that, like Doomboy or 27. I haven't read Phonogram, but I always like when comics incorporate music. Even if it doesn't literally have sound, comics that are done well let you feel the sound. I'm a huge sucker for those comic books because they combine two passions of mine. That's part of the Indie Comix Expo, too. This year we only have people who rap, but in the future we hope to have full bands. We weren't really set up to do full sound for bands, but it's something we could do in the future. I think that they should go together, and they should be celebrated.
MP: Would you tell me more about King Bone Press?
JW: I met Bobgar Ornelas in an online comics forum, and he had used the name to publish his own comics. We met in an online comics forum, and, a few years later, we started working together. I kind of asked him if I could just join, and we started publishing together. That was probably about five years ago.
After Bob and I started working together, we realized that we had a lot of friends who wanted to publish comics but didn't necessarily know how or weren't likely to get into a large publisher. We decided to put a book together, and we ended up creating a 140 page anthology called Low Concept. We did it through the 11 O'Clock Comics Podcast forum, and we had 42 contributors who just wanted to make comics and have fun. That was kind of how it all started. We realized that we liked publishing other people, and we liked how excited they got, and we like all the people we got to meet through the process. It was just really fun. That's what is great about publishing collaboratively—it means that the people involved are passionate and they want to be making comics.
We're not here to make money. We just want people to be excited about seeing their work in print or on the web, and we want to help other people. Most of the people, you know, we consider friends or acquaintances that we kind of get to know a little bit first before we ask them to come in. We like to see other people in print, but we want to also be involved with it because we're printing it.
MP: Right now all of the King Bone Press comics are available online, but they are also available in print. How do you feel about this digital transformation that comics are making right now?
SA: I think web-comics and digital publishing is good for the self-publishing guys because they can't always afford print materials. For the industry, I think, to quote Stan Lee, "Looking at women on the internet is nice, but it's better to touch one." It's the same with comics—looking at comics online is nice, but it's better to hold them. Stan Lee actually said that.
JW: We wouldn't be here if it wasn't for digital books. Our books are available here at Brainstorm Comics, but we sell most of our comics online through our website. I mean it's cool to sell books on Comixology, and every once in a while it'll pop up that we sold a book in Europe or Australia, so that's really cool to us. It's hard, though, as a small publisher to ship the books; it's a lot of money and time. We get a lot of publicity and reviews through our digital distribution, which has been huge for us. Like I said, I met a lot of people online to being with.
As far as comics distribution, too, I think it's great. I think it's the wave of the future, and I think it's helping print. I know, for myself, I'm about 75% paper reading and 25% digital for myself. Most of the time, if I really enjoyed the digital book, when the collection comes out I'll end up buying it for myself anyway. I know that for somebody like me, and a lot of people I talk to, it's more of a gateway to other comics than it is taking away from shops or other things like that.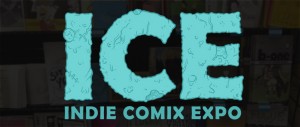 MP: Let's talk more about the Indie Comics Expo (ICE), which King Bone Press funded through Kickstarter. Your event was funded at 144%, so you had a very enthusiastic response from your supporters. What's your experience with Kickstarter as a funding source, and how did you get people to kick your project?
JW: ICE was our third Kickstarter and our fifth experience with crowd funding. We've been successful each time, and that's not something that we take lightly. I've seen a lot of people with great projects that don't come through, and we've had a lot of great supporters and collaborators.
I can't say that we have any magic tricks. We make friends online, promote, ask around, and politely ask the right people to re-tweet or re-post for us. Usually our projects have more than a few people involved, so if each person brings in a few fans or a few backers, that's a big help. We also try to do bigger things. Last spring, we did a package of five books at once, so we were asking people for a more substantial amount of money, so we could publish a bunch of books at once. That went over well.
With ICE, I feel like it was partly that we brought something unique to Kickstarter, and people got excited. We also have some good people involved. Cochise Soulstar and Adam Warrock will be performing, so that in itself, for a six dollar ticket, should be worth it.
We try to be thoughtful of the tiers, too. We have a lot of people who are willing to donate art or music, beforehand, so giving people value is really important to us. I've seen Kickstarters before where people want to make a comic and are passionate about it, but you've got to be realistic. People aren't going to click that button if it's way out of their price range. We try to be realistic and to offer something at every price level. We try to be mindful of having diverse tiers.
MP: I noticed that at the higher tiers you can get tattoos…
JW: I have a friend who does tattoos, and he works at Dead Serious Tattoos. He's a good friend of mine, and we were in a band together. We support each other back and forth, so I asked him if he wanted to be a part of the show. I thought that was a unique thing to offer: get a live tattoo, hang out at the show. Why not? He was all for it. Again, a lot of the things we do are like "I know a guy who knows a guy" or "I have a friend that does this," and it helps to have friends that have diverse interests. He's also an artist and does prints, so he was really cool about helping us out.
MP: What other events will be happening at ICE?
JW: We will have a self-publishing panel because part of the reason for King Bone Press is to help other people. We're not trying to keep secrets, and we're not experts, but we want to help out up and coming people.
We're also having a live interview with a formerly independent publisher, Ed Brisson, out of Canada. He's moved on to some bigger comics, so I thought it would be nice to have somebody whose made that leap from printing his own books. He's somebody who has been really cool. I've met him a few times. I just approached him to see if he wanted to do a live interview and, again, I think it will be a good thing for people.
In the other room—we have two rooms at Reggie's Rockclub—we will be having three live shows. Mega Ran, Cochise Soulstar, and Adam Warrock will be performing through the night.
MP: Have you thought about what you will want to do next year?
JW: We've never done anything like this before. To be honest with you, it was kind of just two guys talking in a bar that were like "we should do our own show," and then the next thing we knew it was like "oh crap, I guess we're going to do it." In the future, I would like to see it be a little bit bigger in scale and attract bigger guests—we enjoy the people we have now, but we'd like to incorporate bigger guests, too—and more musical acts from around the country, maybe incorporate more people who create comics but also create music. Peter Bagge has a band, and it would be cool to have him perform. I would like to see it continue to explore that kind of avenue, and maybe have some comedy or some other things. Originally, I thought of it more as an the Indie Comix and Entertainment Expo, piggy-backing off of C2E2. We were going to have independent wrestlers and things like that, too. There's more to it than just comics, you know like how many different indie entertainers could we bring in? That would be fun, too.
MP: You have listed the show as the Indie Comix Expo. What's the difference between comics and comix?
JW: The difference is one letter and trying to let on that you're cool or more independent, I guess. To me, the 'x' lets people know that what they are coming to is not going to be Marvel or DC. We might have people who work on those books as well, but you're going to see something a little off the beaten path. To me, those are the comics I get passionate about, and those are the comics I enjoy reading. Walking into a shop like Brainstorm or Quimby's down the street, you can pick up something that somebody literally photocopied, stapled together, drew themselves, did it all. That's when you see comix—it's going to be a little off the beaten path.
For us, we've had some difficulty getting into the bigger shows like C2E2, and when we did get into the bigger shows we didn't do all that great. We want and need something where people like us can be the focus. You're going to know going in. I mean people may go into C2E2, but their looking for certain things: certain toys or certain books or the artists on the bigger books. That's fine, but we wanted to say up front with that 'x' that people are going to get something different from different people, and if that's what you're interested in, come see us. That's what it means to me.
SA: I haven't really seen much. For me, it all falls under the same umbrella: from the big guys to the little guys, from a large press to a small press. For me it's all entertainment. Whether it be Spiderman or Laundry Detergentman, it's all escapism. There's no difference to me.
MP: You feel like comics are a form of escapism?
SA: I mean it's an enjoyable escapism. We lose ourselves in these things. You want to read about Peter Parker or some other person: their lives, their struggles, their problems. It gives you a break from your own, or you identify because their struggles are similar to yours. But it's still escapism. It's a way to tune in and be away from your world for a while. It's a whole world where the fantastic is possible. I think it's a unique kind of escapism, though, because it engages your imagination.
While there are a lot of television shows I like, I feel like I'm turning my brain off when I'm watching them. When I'm reading a comic book, though, my brain is active. You and I can read the same book and walk away from it with a different experience. But if we watch the same episode of a television show, we're going to get the same thing out of it. Television is straight forward you know, like plot point A to plot point B without real interpretation unless it's Twin Peaks. In comics, you can read one panel, and I can read one panel, and I can say like "oh! This is this person self-discovering" and you can be like "no, they are just being a jerk." I think it's different because it can be interpreted differently, and it opens up new things. You know, a kid can get bit by a radioactive spider and cling to walls. In reality, you get bit by a radioactive spider, and you're going to have a hazmat team scrubbing you. It just opens up another world. There are no rules, there are no limits. If you want a guy who can turn to steel, there he is. It just happens.
MP: Why do you think that comics are important?
SA: They continually teach people that you don't have to settle for the norm. It's okay to either escape or create the fantastic worlds, and there is something for all ages.
I also think comics are a useful tool to get kids into reading. I've had a lot of parents come in frustrated because their kids aren't reading. They'll come back a month later and buy another stack of comics. Their kids are reading better, annunciating, asking questions, looking up words in the dictionary. We had that with The Fantastic Four because that was a heavy science fiction book.
There are lots of important uses for comics, and I don't think the medium should ever go away. It's also a creative outlet for all of these millions of creative people, whether they get picked up by a big company or not. It's a very important medium, and I'm glad to be a part of helping it to stick around by getting into people's hands.
JW: Similarly to Sean, I think it's an important medium. It is something that people can do themselves—people can't do that in other creative fields—and then they have something they created themselves.
In my case, a lot of time it's just me and one other person, and we have something that couldn't have been created outside of us. Sure, I could pay somebody to create pretty pictures, but it wouldn't be the same if our relationship didn't create it. To me, that form of expression is important, and I think that's why comics stick around. There are a lot of stories out there, but they are all going to be unique because it's not as a big of a committee as other forms of entertainment. The same thing is true with music. You can be a one-man band or you can work with a DJ or you can work with a computer yourself, and I don't think comics are any different. I think they are going to stick around. There might not always be big shops or big companies, but I think people will always be scribbling and writing stories in a sequential fashion.
You can follow Jon Westhoff (@Anti_Drummer) and Sean Akins (@CochiseSoulstar) on Twitter.
Photo credit: Dan Pua.