Editor's Note—3.1
LETTER from the Editors
Dear Reader,
This issue marks the close of our first two years of publishing Colloquium. Two years, four issues, fifty pieces. This issue also allows us to announce the publication of our first print edition, Colloquium: The First Two Years. The print edition, like its electronic counterpart, will present an eclectic selection from each of the first four issues, and new work exclusive to the print edition from some of our previous contributors.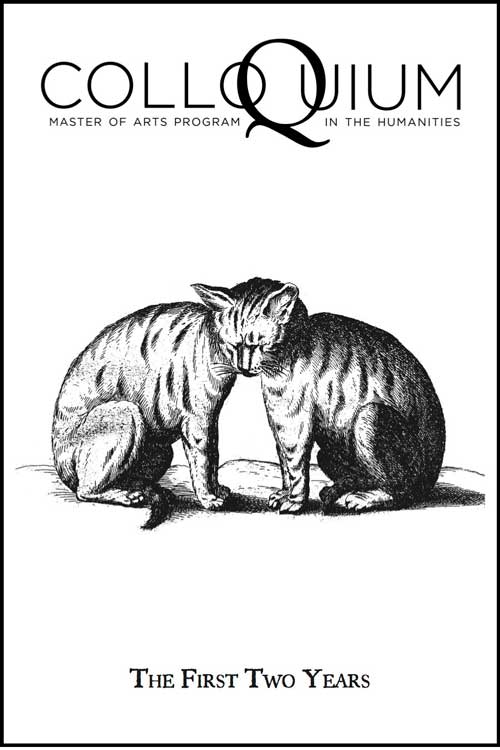 The editorial board is grateful for the support from MAPH's directors, David Wray and Hilary Strang. Under their guidance, MAPH continues to draw some of the most fascinating, interested people from around the world. We're grateful to Maren Robinson and Sarah Smith (I thank Sarah here in addition to her capacity as an editor) who with great wisdom run MAPH Central, the hub of each year's cohort, and whose careful budgeting made the print edition possible.
This issue also owes special thanks to editors Sarah Smith and Jessi Haley. Without their detailed coordination, indefatigable patience, and monumental behind-the-scenes efforts, this issue would not have come to life.
The three staff members from the 2013-2014 cohort, Editorial Fellows Matt Stone and Emily Schickli and Design Fellow Kelly Felsberg, were an incredible addition to the team. They"ll be continuing with us over the summer as the print issue is finalized and they wind up some very ambitious secret projects we're looking forward to revealing.
Most of all, I want to call your attention, Dear Reader, to the body of work in this issue. MAPH alumnus Michael Robbins, author of Alien vs. Predator, reads new poems and we have a live conversation with UChicago Creative Writing professor, Dan Raeburn. RiFF RAFF, techno, and fever dream hallucinations coalesce in this issue. Malcah Effron considers the female Watson, and Rick Ness offers a powerful insight into cancer's "tyranny of cheerfulness." We even get to talk about Miracle Mile and read new poems by Chip Blackburn and Lilly Lampe.
It's a good issue, and we're glad you're here. Stick around for a while, and come back whenever you want.
Thanks for reading,


Bill Hutchison
Editor-in-Chief