Collective Memory, Identity, and Cultural Fronts in Struggles for Equality
STRUGGLE AND EQUALITY by Lara Kelland
In Jeffrey Euginides' novel Middlesex, the hermaphroditic protagonist Cal spends a great deal of his time reflecting on his Greek heritage, tracing his biological lineage through centuries and generations. Cal traverses his familial and cultural past, performing a classic bildungsroman negotiation with his heritage. Yet despite this, he remains an outsider in his community, a closeted interloper who resides uneasily in all of his childhood contexts, in which he is recognized only as Calliope, as a daughter, as a schoolgirl. It is only near the very end of his lanky tale that Cal comes to recognize himself fully when, as a runaway from all he knows, he encounters a history of intersexuality, of times and places past and distant that revered such sexual ambiguity and liminal identity. The claiming of a history that suits his sense of self, the recognition of a past narrative that echoes his own experience in the world, provides the necessary footing to return home and embrace family with a suitable and true identity.
For those who reside outside of normative and dominant culture, narratives of the past can either subjugate or empower, either build pride or shame in communities and individuals. As seen in Cal's development of identity, of his sense of self located in narratives of the past, by the 1980s and 1990s identity and history were inexorably bound up together. Regardless of social position, we all draw upon a wide variety of sources to make narratives about the past. Each day, throughout the day, we understand our present experiences in the world based on our knowledge of past events. Marginalized communities in the United States have long been written out of or excluded from the dominant national narrative. People of color, women, and sexual minorities have experienced stigmatization and erasure from the historical record, a cultural violence committed by both academic and popular narratives.
The social movements of the 1950s, 1960s, and 1970s sparked a powerful transformation in the consciousness of subjugated peoples. African Americans, women, gays and lesbians, Native Americans, Chicanos, and other marginalized groups transformed their communities into forceful political presences, but also inspired a desire for identity-based history. Movement participants found that their new consciousness led to a call for social and political equality, but it also generated a demand for cultural representation and a longing for a rich sense of collective struggles and successes, both present and past.
In this essay, I contextualize the efforts of activists within the Civil Rights, Black Liberation, Women's Liberation, and Gay and Lesbian Liberation Movements who functioned as community historians. I argue that in each movement they developed new memory practices in the service of their communities' collective memories. Through the development of collective memory, activist intellectuals built new political identities, effectively serving as a cultural front for grassroots political movements. These identities served at least two key purposes: they provided a proud basis for movement members from which to stake claims for full citizenship and equal rights, and they performed cultural work in mainstream society, rewriting narratives of weakness, intellectual inferiority, and moral feebleness. Usually working with minimal resources, often with little or no formal training in history or education, they researched, archived, authored, and presented their collective histories. Although not all of these agents viewed their work as formal historymaking, all sought to craft a useable past that couched their newfound political identities in a legacy of shared struggle with those who came before them.
This project enriches the historical literature on community memory, grassroots organizing, and cultural activism undertaken by Civil Rights, Black Power, Women's, and Gay Liberation activists; it also significantly broadens the scope of historical authorship beyond the walls of the Ivory Tower. Although public and academic historians are increasingly acknowledging the significance of memory to the larger field of historical knowledge, both still primarily regard community historians as hobbyists at best, misguided amateurs at worst. In contrast, I argue that activists authored historical narratives that both significantly affected their communities and shifted cultural authority towards the communities themselves—that these historians raised a question of who can speak for whom on community historical matters. The result is that we cannot understand the democratic impulses in academic and public history circles from the 1970s onward as arising only from well-meaning historians within universities and museums; we also must acknowledge that this change came in response to cultural activism of movement leaders and intellectuals. This essay provides a snapshot of some of the different memory practices employed by social movement activists in the production of new political identities. To this end, I engage the use of music within the Citizenship Schools of the Civil Rights Movement; myth and historical narrative within the Nation of Islam as foundational to the Black Power Movement; research and visual collective memory practices that coalesced around Judy Chicago's The Dinner Party within the Women's Liberation Movement; and the use of slide shows as a tool of community education within the Gay Liberation Movement.
Collective Memory in the Civil Rights Movement:
Music as Heritage in the Highlander Folk School
For Civil Rights Movement activists, collective memory served as a new and important tool of community mobilization. Although black intellectuals had been authoring and preserving their history throughout the late 19th and early 20th centuries, most of their efforts came from the black elite. Informal kinds of collective memory existed in community events like festivals and parades, yet a wide-sweeping commitment to the transformative potential of black history emerged only in the midst of demands for racial equality in the 1950s and early 1960s. During this time, community leaders established Citizenship and Freedom Schools across the south to promote voter registration and participation, as well as more broadly advancing demands for racial equality primarily through the rhetoric of citizenship.
The memory practices used by Civil Rights activists were primarily movement educational initiatives that also asserted rights for black individuals. These projects engaged the primary goals of the movement, namely to empower all black citizens towards the goals of cultural, political and economic parity with whites. Leaders of these projects also attended to questions of power within the movement, often actively promoting grassroots leadership and a widespread and multi-authored collective memory. Leaders invoked two primary traditions in their collective memory narratives. First, they contextualized their contemporary struggle within Long Civil Rights Movement, making a connection between their struggles in the 1950s and 1960s and the resistance of enslaved people, the work of Abolitionism, and the struggles for rebuilding the American racial order during the Reconstruction Era. Secondly, they drew upon grassroots organizing and popular educational traditions in the labor movement, including the use of music, to transmit collective memory that stood in opposition to mainstream American historical narratives. Both of these traditions were integrated into curriculum content and design in the Citizenship and Freedom Schools, and would lay a foundation for popular education taken up later in the Black Power and Gay and Women's Liberation movements.
White southerners Myles Horton and Don West founded the Highlander Folk School in the foothills of the Appalachian Mountains near Monteagle, Tennessee in 1932. Inspired in part by the Danish Folk School movement, Horton and West aimed to empower and mobilize impoverished communities of the region through adult education. In the first decade, Highlander worked primarily with labor organizations and local people to build coalitions among coal miners, woodcutters, textile workers, and farmers in the area. In 1937 the school allied with the Congress of Industrial Organizations, which inspired other labor organizations to engage the school's workshops for union leadership training. During the 1940s, the school's racially integrated workshops began to attract negative attention, as state and federal agencies began to redbait Highlander leadership, charging them with running a "Communist training school."[1]  After an overnight raid in 1961 that closed Highlander and revoked its charter, the school reopened shortly after as the Highlander Research and Education Center first in Knoxville, then in 1972 moved to New Market, Tennessee. Throughout the school's history, Highlander staff actively cultivated grassroots leadership through programs like the three-year Community Leadership Training Project in Alabama and Tennessee and the establishment of the Citizenship Schools across the south.
Throughout the Folk School's history, Highlander staff embraced the power of music and singing for movement purposes. Before coming to HFS, Zilphia Mae Johnson trained as a professional musician at College of the Ozarks. In 1935 she first visited Highlander with the intention of preparing for labor union work, but fell in love with and married Myles Horton, formally joining the school as Music Director. Highlander's emphasis on cultural preservation was a perfect environment for Zilphia Horton to merge her passion for music and radical politics. She initiated cultural outreach programming as well as provided musical curriculum for the residential programs, as workshop singing became an integral part of the Highlander experience. Part of her work included collecting sheet music for traditional folk songs, sometimes with new lyrics, which would then be mimeographed and handed out at strikes to lift unionists' spirits. In 1939, she oversaw the publishing of a collection of such songs for the United Textile Workers of America entitled Labor Songs. Although Zilphia died tragically before the founding of the first Citizenship School in 1956, she left an indelible imprint on the movement. Before her death, she made music a permanent part of Highlander culture. In her role as Music Director, Horton regularly added new lyrics to old folk songs, adapting them for contemporary movement purposes. The most famous example of this adaptation was the Civil Rights anthem "I Will Overcome," a song that had been popularized by Methodist congregations in the early 20th century, and then later appropriated by labor leaders.  In collaboration with Pete Seeger, she changed the lyrics to the more collectivist "We Shall Overcome," and the song became a favorite at Highlander meetings and rapidly spread throughout the larger movement.
After Zilphia Horton's passing, folk singer Guy Carawan took over her position as Music Director, further enriching Highlander's use of music in movement-building and collective memory. Born in 1927 in California, Guy Carawan moved to the South in 1959 to work with Highlander. Carawan was both an ethnographic scholar and teacher of folk music, but in his work at Highlander, he also became passionate about the role of music in building social movements. He met Candie Anderson, a student who was visiting Highlander from Fisk University in Nashville in 1960, and the pair married soon thereafter. As he attended movement events to teach songs and facilitate lyric development, he compiled lyrics and mimeographed impromptu songbooks to hand out at sit-ins and conferences.[2] His passion for folk music proved a fine match to Highlander's work in the Sea Islands off the coast of South Carolina and Georgia, where a rich local music tradition had flourished for many years. After meeting Esau Jenkins and hearing of his efforts to found and expand Citizenship Schools, Carawan took up residency at Johns Island on Christmas Eve of 1959. Carawan spent several months living with Jenkins, conducting an evening singing program on the Islands as well as documenting the area's traditional music. That winter he developed a singing program for the Citizenship Schools with both cultural preservation and pedagogical aims. Out of this endeavor emerged the Sing For Freedom workshop, first held in late summer of 1960. The initial workshop focused on putting the Beatitudes to music and rearranging old spirituals to include "new words of freedom replacing the old words."[3] An old slave song that promoted faith during times of struggle asked "throw me anywhere, Lord, in that old field," and was often accompanied by a dance called the "Buzzard Lope," making reference to a graveyard while also promising peace and glory in the afterlife. SNCC freedom summer workers substituted "jail" for "field," refashioning the song's sustaining energy from long hours of agricultural work to long hours in southern jails.[4] Similarly, "We Are Soldiers In the Army" transposed "holding up the blood stained banner" of the Lord's army to "holding up the freedom banner" of the Civil Rights Movement.[5] By changing the lyrics to traditional spiritual songs, activists connected their contemporary struggles to those of generations of enslaved ancestors while also transmitting cultural heritage to a new generation.
Under Carawan's guidance in 1960, the Citizenship Schools formally included singing activities as part of their curriculum. Starting with schools on Edisto, Wadmalaw, North and South Johns Island, and on the north side of Charleston, Carawan traveled from school to school for singing sessions, events in which he took both a passive role of learner and ethnographer and an active role as music teacher. Sessions began with thirty minutes of instruction in new songs, after which he opened the floor for requests of old favorites. Participants took turns leading songs, and sessions would often end with testimonials "about how the songs have helped give them the faith and determination to hold on and overcome their many hardship and to come through them still full of love for their fellow men."[6] Such recollections of the music workshops echo the relationship between the former spirituals and secular freedom songs; what had once been a religious form was now secularized for the struggle for racial equality. Carawan also noted that the elite black churches proved to be the least useful in locating folk cultural traditions. Rather, it was in the rural churches in the isolated parts of the Sea Islands, where services were less hierarchical, that the folkways of testimony, prayer, and song—many not included in the hymnbooks—flourished.[7]
Coming out of the workshop in 1960, Highlander produced a mimeographed songbook entitled "Sing For Freedom" that included songs connecting the slave past to contemporary struggles. One song framed the freedom struggle as dating back to emancipation, remembering how "our folks have been in bondage we could not equalize, today our chains are broken…the freedom train is coming…just let us work together."[8] Choruses included references to John Henry, the mythic black rail laborer, as well as freedom lyrics sung to traditional negro spirituals. Another song entitled "John Brown's Body—Negro History Week Song" connected present struggles to a heritage of past freedom fighters: "In the roster of our heroes is a great and shining throng, Negroes famed in Art and Science, famed in History and song, and the freedom road they opened is the road we march along, the truth goes marching on."[9] With the inclusion of singing programs into the rest of the curriculum, Citizenship School students linked their cultural heritage to their political future, and their own struggles to those of their forbearers.
Carawan understood his role not only as a cultural worker in a political movement, but also as a documentarian and preservationist. During his first visit, Septima Clark and Esau Jenkins took Carawan to meetings and church services, where he observed the region's distinct form of "shouting" spirituals, an experience which left him inspired to document the musical traditions of the islands. In 1963 the Carawans returned to the island to develop a more substantive cultural preservation program, committing themselves to the conservation of "the oldest and purest Afro-American music known to be in existence in America today."[10] Out of their research the Carawans produced Ain't You Got a Right to the Tree of Life?, a book of photographs, biographies, and music from the residents of Johns Island. They also produced recordings and promoted local musicians in an effort to keep the musical traditions of the islands alive.[11] Carawan's work not only served to integrate current movement politics into familiar cultural traditions, but also to weave heritage into the movement's vision for a racially just future. Later workshops brought together volunteers from the Council of Federated Organizations, the Georgia Sea Island Singers, Alan Lomax, and others together to further enrich the political movement with a sense of history. Lomax, an ethnomusicologist and folklorist who traveled around the south recording local folk musicians, described the development of racial pride through black cultural heritage:
A few of these songs have served the Negro people directly in the freedom movement; they have been transformed into the "freedom songs" which provide the morals for the movement. Yet, in spite of this fact, most negroes today feel rather ashamed of their musical heritage…This movement should provide them with the audience and the appreciation they so richly deserve. They in turn can provide the movement with the treasure of their talent and their songs and make it, not only stronger, but culturally rich and at the same time more firmly rooted in the Negro community.[12]
The "shame" invoked by Lomax stemmed from the dismissal of black culture by mainstream white society—the belief that black cultural forms reflected a lack of education and finesse. A young folk singer, Len Chandler, recalled that at a "Sing for Freedom" workshop held at the Gammon Theological Seminary in Atlanta, GA, some younger participants "seemed ashamed of the 'down home' and 'old time' music" and that "slave songs seemed out of place at a 'sing for freedom.'"[13] For Carawan, Lomax, and many of the workshop participants, building black cultural pride served as a key strategy in the struggle for political justice. For the movement to be a success, both historical understanding and cultural continuity were necessary ingredients.
In October 1965, Highlander sponsored a Conference for Southern Community Cultural Revival, which included a workshop on Negro Folk Music. Alan Lomax spoke at the event, which included participants from the Newport Folk Foundation (a sponsor of other festivals and conferences) as well as freedom movement organizers from South Carolina, Mississippi, Alabama, and Louisiana. The event underscored the importance of music and protest for Highlander. An article written for the Southern Patriot, a newsletter of the Southern Conference Educational Fund, contextualized African American folk music heritage to a new generation of activists:
The moving force comes from young Southern Negroes who have come out of the freedom movement. Possessed of an inner freedom and sense of dignity won in struggle, they no longer feel ashamed of traditions of the past and have suddenly discovered a beauty and strength in the culture of their forefathers. They have determined that it not be lost.[14]
Highlander staff saw this not only as a bridge between white and black activists, but also as a way to empower "downtrodden rural negroes" as teachers and leaders in the movement via the transmission of their cultural knowledge.[15]
A report generated by conference participants underscored the connection between cultural heritage and political action, committing activists to "enriching the newly aware and modern Negro with a sense of identity in his own and American culture."[16] Such efforts were necessary because "the Negro has been brainwashed, turned against his cultural heritage because of white-dominated teaching in the schools…and because of the distorted way in which his music has been presented by the mass communications industry."[17] The "Statement of Intent" also demonstrated how participants understood the importance of preserving distinct African-American cultural forms as an act of resistance to assimilation, entreating "the Negro community to come alive in its own spirit and on its own terms…political and economic progress does not have to mean conformity."[18] Cultural preservation served not only as an intergenerational bond, but also as an assurance against cultural homogeneity in an era of liberal improvement. This language of identity reflected the shift within the Civil Rights Movement away from the focus on citizenship  towards the commitment to black cultural, economic, and political self-determination that characterized Black Power ideology within the larger Black Freedom Movement. 
Nation of Islam: A Bedrock for Black Power's Collective Memory
The number one thing that makes us differ from other people is our lack of knowledge concerning the past. Proof of which – almost anyone else can come into this country and get around barriers and obstacles that we cannot get around; and the only difference between them and us, they know something about the past, and in knowing something about the past, they know something about themselves, they have an identity.[19]  –- Malcolm X
As the heir apparent to the Civil Rights Movement, Black Power radically reformulated the use of history within the struggle for racial justice, as seen in Malcolm X's quotation. Civil Rights activists had used black history primarily to build racial pride and movement solidarity. The birth of the Citizenship and Freedom Schools under the auspices of the Highlander Folk School, Southern Christian Leadership Conference, and the Southern Nonviolent Coordinating Committee employed historical education towards the goal of eliminating racial difference. In contrast, the Black Power Movement used history to build a movement that celebrated racial difference by lauding blackness. In a session called "Culture: Black Awareness and Love" at the first Black Power conference in July 1967, participants outlined the need for scholarship on both African and Afro-American history, calling for both "black interpretations in history" and eradication of "white distortions and myths."[20] From the movement's beginning, leaders underscored the importance of reframing of black history both as community asset and as transnational narrative.
Black Power activists used movement education to share a pan-Africanist identity that supported the movement's goals of not only racial pride but also cultural and political autonomy. Where the Civil Rights Movement had used community education as a means to achieve particular movement goals like voter registration and the obliteration of "separate but equal," Black Power activists took on a structural critique of liberal institutions and processes, and, rather than attempt to reform them, built black-controlled institutions as an alternative.
Although not always periodized as part of Black Power, the Nation of Islam nonetheless laid bedrock for the larger movement, making black separatism intelligible, if not inevitable. From the ashes of Marcus Garvey's early 2oth century nascent black separatism, the Nation of Islam (NOI) emerged not only as a new religious and quasi-political organization, but also as a seedling of a black collective memory that was Afro-centric and supportive of separatist goals. Although Booker T. Washington, W. E. B. Dubois and Carter Woodson had been using black history as a tool in the struggle for racial justice during the earlier 20th century, the Nation of Islam set forth to build a historical narrative in service of a separatist political identity. The self-determining demands of the Black Power Movement in the 1960s took cues from the Nation's earlier collective memory groundwork. Following their predecessors, NOI narrative and mythology placed Afro- and Asiatic black experience at the center of human history, a prehistory that de-emphasized black slave experience and foreshadowed the Nation's political project of nationhood and separatism. Nation of Islam leadership transmitted this newly crafted heritage to all generations of Nation membership through sermons, newspaper articles and the University of Islam schools.
The Nation of Islam began in the slums of Detroit, Michigan, where a door-to-door fabric salesman began preaching a new religion to his black clientele. Wallace Fard called on his followers to reject Christianity and return spiritually to the practice of a retooled Islam, a hybrid religion that Fard promoted as the religion of their ancestors. In 1930, Fard institutionalized his evangelical work by founding NOI. To enhance his legitimacy, Fard preached an origin myth that blended elements of Christianity, Judaism, and Islam, a narrative that explained the history of race relations while also offering his black separatist political program a teleological foretelling. Fard's date of birth, national origin, and ethnicity are shrouded in mystery; much more is known of his successor, Elijah Poole. Born to a poor sharecropper in Sandersville, Georgia in 1897, Poole worked various jobs until he met Fard in Detroit in 1931. An early convert, Poole quickly endeared himself to Fard, and was sent to Chicago in 1932 to found the Nation's second temple, at which point he also assumed the surname "Muhammad." When Fard mysteriously disappeared in 1934, Poole assumed leadership of the fledgling organization.
Muhammad, like others who went before and came after, firmly believed in the connection between community education and liberation. He argued that "knowledge of self" kept black Americans from "enjoying freedom, justice and equality…[which] belongs to them divinely as much as it does to other nations on the earth."[21] Central to the project of "a true knowledge of self" was a revision of black history that would direct the narrative away from unsatisfactory figures lauded by white historians, toward African heroes and a transnational sense of history:
So-called Negro History is all slave history…Muslims extoll, in the place of Booker T. Washington, Richard B. Allen, etc., the fighting men and women of the black man's past such as Hannibal of Carthage and King Menelik of Ethiopia whose small army in 1866 inflicted a resounding defeat on the mighty forces of imperial Italy at the Battle of Aduwa…According to the messenger, the Black man's history will begin only and when he stops groveling, begging, cringing in fear before the white man, still his master, and stand [sic] on his two feet as a full-fledged man with pride of self and race.[22]
For Muhammad, there wasn't much of value in historical narratives that included black enslaved experience in the United States. As long as the black community embraced narratives of the slave past, liberation would be forestalled. In fact, one of the most critical elements of social change was "the true knowledge of self, as it means their salvation," a goal which NOI-authored history advanced through the construction of a separatist historical narrative that placed blacks in a pivotal role within human history while downplaying the history of enslaved experience.[23]
Yet black history was more than just a function of identity; for Muhammad, it was the key to understanding and overthrowing white racial power. The heritage claimed by Fard and Muhammad lent legitimacy to black separatism and entitlement to NOI's millenarianism. Fard asserted that God viewed the NOI congregation as "members of the original people or black nation of the earth…. long before the white man himself was a part of our planet, we were the original people ruling the earth, and according to the Holy Qur-an, we had governments superior to any we are experiencing today."[24] Muhammad's myth served not just to generate identity and racial pride, but also to establish the black community as the foundation of humanity as a whole.
During Muhammad's life and leadership, the origin story embraced by the nation remained mostly consistent with Fard's historical narrative. According to the doctrine, black people originated in Asia, but first possessed smooth hair and delicate features. As the story went, "original man" emerged 76 trillion years ago, then shifted into the deity form of Allah. One of the twelve clans of black humanity, the Tribe of Shabazz, emerged as the first civilized African people. A member of this tribe named Yacub was destined to betray his people, which he did through a combination of sorcery and science. Yacub crafted a race of White people who came to dominate the twelve black tribes.  Fard drew upon elements in both Judeo-Christian and Islamic theology for this origin tale, crafting a mythology that was a sort of useable past, a historical narrative that served present concerns, his being comprised of both American and Islamic influences.[25] Beyond serving as a historical explanation for racial difference and conflict, the myth also foretold the coming of a savior who would complete the twenty-five thousand year cycle with a renaissance of black separatist civilization: "We have arrived now at the day we call six thousand years from the creation of the white man's world. And now, according to the prophecy and your own understanding of history, the truth must be told."[26] That truth, of course, was the inevitable ascendency of a superior black civilization led by Fard and Muhammad.
NOI's origin narrative serves to explain a history of oppression while simultaneously providing liberation from that legacy.  By locating the birth of humankind in blackness, NOI built a sense of racial pride, even superiority, as they claimed a kind of ownership over the entirety of human civilization. The myth of Yacub performed several important functions in the process of changing black heritage from a tale of victimization to a purposeful trajectory: first, Yacub himself served to explain the transition from an era of black social power and cultural achievement to one of colonialism, slavery and exploitation, rejecting the "civilizing" narratives of much White-authored history. Second, the "White Devil" justified NOI's call for black separatism, as this figure embodied the moral bankruptcy of White culture. Third, the millennial structure lent an imperative to the movement, which served the Nation's recruitment efforts.  Strange as the narrative itself was, Muhammad's articulation and promotion of a historic backdrop that outright rejected Euro-centrism would provide a foundation for others to reject, rework, and reclaim black history on their own terms.
The enthralling historical narrative preached by Elijah Muhammad inspired an early and important convert to engage actively with black history. Malcolm Little was serving time in a Massachusetts State Prison in the mid- to late-1940s when he met a devoted member of the Nation of Islam. After a rapid conversion to NOI's doctrines and faith, Malcolm began a project of self-education, as he vigorously set to reading books spanning a wide array of historical subjects. He delved particularly into black history, both U.S. slavery and global black experience. Malcolm's search led him to H.G. Wells, W.E.B. DuBois, and Carter Woodson, all who gave him a background in pre-slave trade black empires, slavery and colonialism, and early African American struggles for freedom. What he found in his studies greatly angered him: "History had been so 'whitened' by the white man that even the black professors have known little more than the most ignorant black man about the talents and rich civilizations and cultures of the black man of millenniums ago."[27] Malcolm's anger increased as he continued his reading, and his newfound knowledge fueled his identification with the Nation of Islam: "Not even Elijah Muhammad," he wrote, "could have been more eloquent than those books were in providing indisputable proof that the collective white man had acted like a devil in virtually every contact he had with the world's collective non-white man."[28] Through early Afro-centric history, Malcolm found inspiration for organizing and building the Nation, as well as a rhetorical basis for the change he preached to the rapidly growing congregations. Upon leaving prison, Malcolm took his newfound passion for history into his role as NOI leadership, often using history in his sermons and recruitment efforts.[29] Malcolm's passion for scholarly historical research also marked a shift in the historical narratives within the Nation; through his sermons and editorial hand in the Nation's newspaper Muhammad Speaks, collective memory within NOI deemphasized Elijah Muhammad's origin myths and began to include more black American history.
In 1963, as Malcolm learned of Elijah Muhammad's secret affairs with several young NOI women, he began to mistrust Muhammad's teachings and to further cultivate his own interpretation of the collective past of black Americans. In 1965, just weeks before his assassination, Malcolm X gave a speech on African-American history as part of a three-part lecture to kick off his new project, the Organization for Afro-American Unity. Underscoring the importance of heritage, Malcolm started the series with his speech on the importance of history. He used the second lecture to address the current state of racial politics, and wrote the third on his political program for the future. The delivery of the last speech, however, was precluded by his death. Malcolm's sentiments on black history took on even more importance after his assassination, as they stood out as part of his ideas and legacy for racial change. Malcolm's speeches at the end of his life quickly became foundational to the nascent Black Power Movement, with Malcolm assuming a position, in the words of biographer Marable Manning, of "secular sainthood." [30]
Less master narrative than thematic essay, Malcolm X's speeches both underscored a critical need to better understand black history within the black community and served as a criticism of dominant White versions of black history. The speeches reframed African American history, moving away from the American slave past towards a history that emphasized the glories of ancient black civilizations. Malcolm also took issue with commemorative practices around black history. Negro History Week had been celebrated since 1926, when Carter G. Woodson established the commemoration under the auspices of Association for the Study of Afro-American Life and History. Malcolm denounced the public acceptance of the event as indicative of white hegemony:
[D]uring this one week they drown us with propaganda about Negro history in Georgia and Mississippi and Alabama. Never do they take us back across the water, back home…so Negro History Week reminds us of this. It doesn't remind us of past achievements, it reminds us only of the achievements we made in the Western hemisphere under the tutelage of the white man.[31]
This charge echoes a common refrain within NOI discourse, with both Malcolm X and Elijah Muhammad often referring to the "so-called negro." They both felt that "negro" indicated only African-American experience within the national context of slavery and instead preferred to use "African." Framing black history within the context of "the negro" not only cut off significant parts of black experience, but also defined such in terms of enslavement.
For the purposes of cultural nationalism, there were many benefits of reperiodizing black history away from American "negro" experience towards a universal history of black humanity. Attending to black history as a whole reclaimed a history that supported black Power's political identity, emphasizing a past politically autonomous from European powers. While racial categories proved tenuous, shifting across time and space, part of Malcolm's historical project was to lay claim to peoples who were previously considered Caucasian or Asian. Sumerians, Moors, Egyptians, and peoples from the Indian subcontinent were claimed by Malcolm as "high civilizations" that predated European cultures.[32] These civilizations gave white society traditions concerning clothing, food, architecture, universities, pedagogy, and other social achievements. According to Malcolm, the invention that broke black cultural superiority and self-rule was the development of gunpowder. Through this tool of domination, White slave traders created the institution of American slavery, destroying the high moral fiber of West African societies through enslavement by what Malcolm considered the dregs of European society. "The founding fathers from England," he argued, "came from the dungeons of England, came from the prisons of England; they were prostitutes, they were murderers and thieves and liars."[33] From the pulpit, Malcolm X entreated his congregation to proudly reclaim an African heritage that told a story of superiority over European historical narratives.
Identity building was a critical part of the doctrine and spiritual path for Nation of Islam members. NOI held special appeal for those who had been or were currently incarcerated, because it aggressively marketed a formula for personal transformation to respectability.  The program laid out by Muhammad required adherents to reimagine themselves shaking off the ideology of White America. Premised on the idea that NOI adherents had internalized the hatred projected upon them, the Nation's promotion of "Knowledge of Self" included an unlearning of the black slave past and relearning of African historical experience. Muhammad identified education as a key front in the cultural war waged by NOI, faulting mainstream schooling for failing to "teach us the knowledge of self. We have been to the schools of our slave-master. We have been to their schools and gone as far as they allowed us to go. That was not far enough for us to learn a knowledge of self."[34] Muhammad recognized that the intellectual and cultural realm for black Americans was irrevocably tainted with racist ideologies. Thus, claiming ownership over the form and content of education was a means to self-respect, a drive for nationhood, and key to the development of the skills necessary to be economically independent from mainstream society.
A Cultural History of One's Own: Collective Memory in the Women's Liberation Movement
Much like their counterparts in the Black Freedom and Gay Liberation Movements, Second Wave feminists researched and disseminated a community history that supported their political goals. Their struggle also was marked by a desire to construct a new, shared identity that was self-defined within their own community of womanhood. Women's Liberation community historians looked to the past for narratives of women who had realized personal success, resisted patriarchal limitations, and worked for women's equality; these stories were then used to inspire feminist consciousness and activism as they transformed gender roles in both public and private contexts.
While some feminists like Laura X and the Women's History Library in Berkeley amassed historical documents as an archival basis for women's history, other feminists claimed cultural space within male-dominated art museums and galleries. In the early 1970s, artist Judy Chicago had dedicated her practice to the exploration of women's history. Having studied studio arts at UCLA where she earned BA and MA degrees, Chicago developed a Feminist Art Program at California State University at Fresno in 1970 that sought to teach art skills to young women while simultaneously building feminist consciousness. Between 1974 and 1979, Chicago led the development of a collaborative art project called The Dinner Party that provided a master narrative of world history focused solely on women. The Dinner Party was a massive multimedia installation featuring a triangular-shaped table with thirty-nine place settings, and served as a feminist response to the all-male environment depicted in Leonardo da Vinci's The Last Supper painting. Chicago had first conceived of the piece as a wall installation entitled Twenty-five Women Who Were Eaten Alive by History, but found herself enthralled by the idea of women's history and shifted the plan to the much more sizeable dining table, an installation that would both echo women's space and give Chicago the opportunity to tell a grand tale of women's history. The triangular motif represented for Chicago a structure that was feminine and egalitarian; as no one individual could be placed at the head of the table, the triangular shape reflected the feminist goal of dismantling hierarchical structure.[35]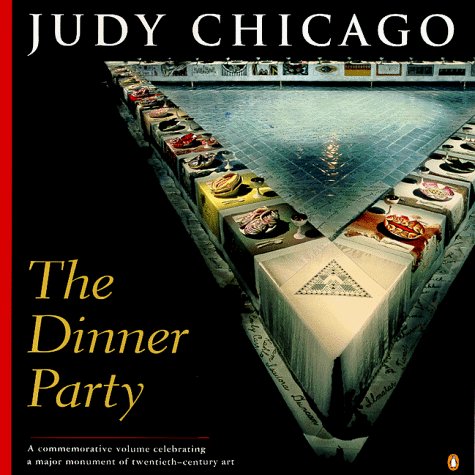 The Dinner Party told a revisionist human history which placed women at the center. A large-scale installation featuring a triangular dinner table with 39 place settings, each highlighting one female historical figure atop 999 triangular tiles emblazoned with other historical women's names, The Dinner Party was a pathbreaking feminist artwork in both size and subject matter. Although the idea originated with Chicago, hundreds of volunteers took part in the research, production, and promotion of the piece. The project emerged from the ideological groundwork of the early second wave movement: that patriarchal society oppressed every woman and that each had an intimate and personal connection to collective liberation. Chicago embraced a collectivist process for both the research and production of the installation, cultivating a separatist arts space that embraced the anti-hierarchical ethos of the movement. The dining room setting suggested women's space of the hearth and home, and the place setting motif allowed Chicago to elevate feminine crafting heritage into fine art through ceramics and embroidery.
Asserting a wide-sweeping historical thesis, The Dinner Party exemplified the intertwined nature of a new feminist identity and a narrative of past collective struggles and identities as it featured the remarkable achievements of women long forgotten by mainstream history. In the introduction to The Dinner Party: a Bibliography, Chicago detailed the process by which women's history shifted from a personal interest to a massive educational and artistic project:
I began to do research in women's history in the late 1960's in an effort to see myself in the context of women's rather than men's achievements. Discovering the enormous amount of information that existed about women, their work, and their lives, and realizing the potential power of that information started me on the journey which eventually led to the creation of The Dinner Party. Headed by Ann Isolde, team members slowly learned to "read through" the sexist biases of history which disguised, rather than illuminated, women's accomplishments.[36]
Chicago argued that dominant historical narratives obscured and distorted women's historical social roles and contributions, an oversight that Chicago wished to rectify. Chicago's own "reading against the grain" of historical sources paralleled the growth of social history in the academy, as scholars who wished to recuperate common voices began to critically engage with archives that had traditionally favored the powerful. The team's research notes reveal an engagement with other scholarly research, connecting their work to historical writing in diverse publications such as Music Journal, New Yorker, MS, Science and Society Journal, as well as with scholarly monographs.[37]
To realize this massive installation, more than twenty volunteers spent over two years building up a massive collection of research notes of which the themes of the installation engaged. Huge file drawers of index cards detailed the lives of a wide array of artists, physicians and nurses, explorers, lawyers and judges, painters, playwright, political figures and social reformers, philanthropists, educators, journalists, authors and orators, religious figures, historians, entertainers and athletes, natural and social scientists, and even outlaws.[38] From this strikingly large array of candidates, the research team featured thirty-nine individual women, each with her own place setting, as well as giving special mention to 999 more by naming them on the triangular floor tiles.
Promotional materials for the installation described the research and nomination methods deployed by Chicago and her twenty volunteers during two years of research:
Ultimately over three thousand women were researched and then we began to make choices based on three criteria: 1) Did the women make a significant contribution to society?  2) Did she attempt to improve conditions for women?  3) Did her life illuminate an aspect of women's experience or provide a role model for the future? We selected 999 women who, we believed, represented a range of nationalities, experiences, and contributions.  Our choices were limited by language barriers, fragmented information, and our own inexperience and biases. Our intention, however, was not to define women's history, but to symbolize it—to say that there have been many women who have done many things, and they deserve to be known.[39]
Chicago's language reveals a critical engagement with both her own research bias and the limited source materials that skewed her work towards European heritage. As a popular historian, Chicago's concern with broadly representing women's experience reveals the imagined universal womanhood that was the project of cultural feminism, but also the progressiveness of her work at a point in the women's movement in which many white middle-class feminists failed to engage meaningfully with race.[40]
Chicago and her research team sought to account for women's experiences beyond European and American figures; the main place settings included the Hindu goddess Kali, the Egyptian Pharaoh Hatshepsut, Shoshone diplomat and explorer Sacagawea, and freedwoman abolitionist Sojourner Truth. Ceramic floor tiles also featured a number of figures from South and Central America, although African and Asian women remained somewhat underrepresented. Although The Dinner Party does not represent the totality of global women's historical experiences, Chicago's efforts are commendable for her sensitivity towards this issue and her efforts to include a wide representation of women's history.
The dining room table provided the viewer with a structured account of women's history from western antiquity to the present. Each side of the table showed thirteen women who typified Chicago's periodization–From Prehistory to the Roman Empire, then From the Beginnings of Christianity to the Reformation, and lastly From the American to the Women's Revolution. In the first section, the women featured ranged from goddess figures—including an unnamed primordial goddess and Ishtar, the Assyrian fertility goddess—to the Greek scholar Hypatia. The second era included canonized St. Bridget from Sweden, the medieval physician Trotula of Salerno, and the Italian Baroque painter Artemisia Gentileschi. The modern period spanned from early American settler and theologian Anne Hutchinson and British writer and early feminist Mary Wollstonecraft through painter Georgia O'Keefe and writer Virginia Woolf. Likewise, the 999 tiles that decorated the floor depicted Aztec goddesses, American anarchists, and Finnish epic heroines. Taken as a whole, the installation told a grand and seamless narrative of the dawn of humanity through the teleological conclusion of Western women's enlightenment and liberation.
The Dinner Party proved to be a highly effective instrument of a useable past, being used by educators as a text from which to teach women's history. William Monter, professor of history at Northwestern University, required forty of his undergrads to attend The Dinner Party in Chicago. Students each selected two figures from the place settings and two figures from the center tiles, and wrote about their impressions and the impact the installation had on them. Students were profoundly moved by their encounter with the installation, recounting "an emotional mix of sadness, proudness, and happiness."[41] In another instance, a California high school teacher incorporated The Dinner Party into her 9th grade curriculum, requiring students to write a 'toast' to a female historical figure of their choosing. Each student researched one of the exhibit's featured women, then created their own table setting as a tribute to the figure. As part of their final presentations, they recorded their toasts and played them during a simulated banquet dinner. As one student toasted Mildred "Babe" Didrikson Zaharias, she offered a heartfelt "thank you for the hopes, memories and dreams" that Didrikson's story had inspired.[42] For young women coming of age in the late 1970s and early 1980s, female role models were a critical tool in creating a new consciousness and identity for young women, a generation that second-wave activists envisioned as populated with self-possessed, fully empowered women.
Judy Chicago relied not only on empirical work to develop a connection to the past, but also engaged myth to further link feminist consciousness with a sense of a shared past in her project following The Dinner Party. Drawing on the material amassed by her volunteer research team, Chicago drafted an alternative 'history', again placing women at the forefront of human evolution. Chicago turned this alternative history into a new project, an illuminated manuscript entitled Revelations of the Goddess. In her cosmology, the planets emerged from an abyss through a vaguely birth-like process that produced "the Vagina Primera," culminating in "one last wail sounded in the Universe as Gaea gave birth to Woman."[43] From this first woman emerged the human race, until "some of the sons of Woman grew restless" out of envy and desire for power.[44]  This desire led to violence between the genders, resulting in the expulsion of the human race from the paradise they had once inhabited. Much like her counterparts in the Nation of Islam, Chicago crafted a myth in order to both explain current power relations and establish a teleological narrative of social revolution. In Revelations of the Goddess, Gaia allowed the transfer of power to men as the final punishment for women's desire for power. This shift had allowed for women's subjugation until a millennium passed and feminine wisdom retuned through the restoration of Gaea as spiritual authority. The myth incorporates the motifs of The Dinner Party in the conclusion:
The true worth of my Apostles and my Disciples [those who have carried feminine wisdom through centuries of patriarchy] and their long toil for redemption, will neither be seen nor known until the day when I shall carry thirty-nine of my Apostles and nine hundred and ninety-nine of my Disciples to my side. Then shall we celebrate at a heavenly banquet when my daughters will at last arise from their servitude and be resurrected in glory.[45]
It is the production of The Dinner Party itself, then, that signals the new utopian feminist era. Structurally, Chicago's myth parallels that of Yacub in the Nation of Islam's cosmology. In both cases, a fantastical narrative accounts for historical subjugation while at the same time prophesying a transformation of the social order. Furthermore, the space of both The Dinner Party and Revelations of the Goddess provided movement members with an opportunity for civic engagement with an imagined community of unified womanhood.
Judy Chicago and her team of researchers and artists helped build a feminist collective memory by developing memory practices that were collaborative and honored women's handicraft traditions. They contributed to a feminist identity that claimed power through historical presence and struggle. By bringing women's historical narratives into male-dominated museum spaces, they infused the cultural sphere with women's experiences and talents. Although the production of The Dinner Party  was a feminist separatist project developed entirely through women's labor, the exhibition itself took women's history out into the public sphere, proving to be both a radical act of feminist arts production and a liberal intervention into the cultural sector as they worked within universities, schools, and museums.
Community Education for LGBT Historians
Like other leftist social movements of the 1960s and 1970s, Gay Liberation took cues from the larger democratic demands and memory practices that typified other identity-based groups. Black Power, Red Power, the Anti-War Movement, and Women's Liberation all shared rhetorical forms and movement-building strategies, and they articulated similar demands for cultural representation. Starting shortly after the Stonewall Riots of June 1969—in which drag queens, gays, and lesbians resisted police violence and repression—queer historians worked to share resources, to build archival access and collections, and collaborated to create a new body of historical knowledge.
Movement education was a high priority for all LGBT historians. Researchers recognized the intimate connection between identity and history, and strove to return their research to the community. Seeking to establish a community history that would feed a new public identity, LGBT historians developed popular slide shows that were eagerly delivered and received. As community centers filled to capacity with cheering crowds, young gays and lesbians during the 1970s and 1980s received an informal education in their community's histories. Documentary films that chronicle the historical experiences of same-sex loving folks, such as Word is Out and Before Stonewall, also proliferated during this period, sparking further interest in LGBT history. As queer historians reached out to the community through their educational efforts, they realized the larger movement goal of crafting a new political identity, sharing this identity with the individual members of the movement.
LGBT historians embraced the community slide show format as a medium to disseminate their research findings. These events gave scholars an opportunity to show visual materials like photographs, art, and book covers as they narrated their findings to an enthusiastic audience. John D'Emilio recalls a euphoria sweeping over the audience as they watched images and listened to narration of a history they had long craved.[46]  Scholars would often travel with their shows, booking a full tour of LGBT community centers and relying upon local organizers to turn out a full house, a task easily done in communities filled with gays and lesbians eager to learn more of their past. Institutions also used slide shows as a part of their community educational work. The Lesbian Herstory Archives quickly embraced the slide show format, because archive volunteers sought out opportunities to connect with the community, but found traveling with archival objects a challenging task.[47] As a solution, slides gave the presentation an exciting visual focus and were easily transported from one site to another. LHA representatives including Alexis Danzig, Deborah Edel, and Joan Nestle traveled significant distances to present in Toronto, at Wake Forest University in Winston-Salem North Carolina, Louisville, Kentucky, Santa Cruz, California, Washington DC, and around New York City and Upstate New York. Some slideshow screenings like the one at the Women's Studies Forum at SUNY Plattsburgh complemented scholarly discussions, while women's bookstores organized others, with one slideshow even functioning as a benefit for a local lesbian writer's group.[48]
Beyond LHA, many other community historians and activists in LGBT history projects utilized the communicative power of the slide show. On a given Friday or Saturday night during the mid 1970s to the mid 1980s, queers in towns across the country could watch a traveling slide show on a wide array of gay and lesbian topics. Some of these demonstrations would turn into scholarly research; some came out of the collective labors of community history projects. Yet some were simply labors of love for a gay or lesbian individual, who felt passionate enough about an LGBT historical topic to undertake research and produce a visual narrative. Some topics were bounded by space and time, according to the traditions of scholarly history writing. Examples included Lesbians and Gay Men in Early San Francisco, 1849-1880; Our Boston Heritage; From the Gay and Lesbian Rights Movement to the Holocaust, 1860-1935; and 100 Years of the Lesbian in Biography. In other cases, slideshow content reflected the growing transnationalism of the LGBT movement, covering topics as broad as African Women in Antiquity: Lesbian Themes among the Amazons; Mayan and Mexican Goddesses; and Gay Germany. Topics that echoed gynocentric themes flourished within the lesbian community, including The Goddess and the Witch; The Mother Goddess; Lesbian Erotica by Women Artists; and Yantras of Womenlove. Cultural history themes also proved quite popular, including What the Well-Dressed Dyke Will Wear—Dyke Fashion, 1900-present; Gay Science Fiction; Lesbian Masquerades; Lesbian Pulp: Twilight Tales; Styles of Being Lesbian, 1890-1945; Lavender Letters: Lesbians in Literature; and The Captive (1922). Still others underscored the importance of community to earlier generations, some examples of which were A Family of Friendship— Portrait of a Lesbian Friendship Group; Marching to a Different Drummer; From Boston Marriage to the Tell-All '70's; and The Heterodoxy Club of Greenwich Village.[49]
While slide shows communicated a basic historical narrative to audiences, they also showcased complex scholarship. Narration often included nuanced historical points.  For example, Greg Sprague's introduction for his slideshow The Making of the Modern Homosexual argued that 'the cultural roots and antecedents of the post-Stonewall generation of gays can be traced back many decades before 1970. There is a continuity between those two worlds. This slide presentation will attempt to explore the historical transformation of urban gay subcultures into a national gay culture."[50] Sprague couched his scholarship within contemporary historiographical debates; this is striking because his primary graduate training was not in history, but in education.[51] LGBT historians, although devoted first and foremost to community education in the name of gay liberation, took scholarship seriously and gave audiences a carefully argued thesis rather than a simple congratulatory narrative. Allan Bérubé presented his research on lesbian and gay soldiers in WWII via the slide show circuit before crafting his research into his highly praised book Coming Out Under Fire. Similarly, James Steakley, Eric Garber, and Vito Russo first presented to community audiences research which they would later publish.[52]
Community members did not, however, embrace slide shows uncritically. In a letter written to Sprague, visual artist and fellow slide show creator Judith Schwarz critiqued a proposed show entitled Legacy of the Matriarchy. Schwarz minced no words in her critique as she declared that she "failed to see how a goddess culture in a pre-technological culture can teach me how to deal with present society's treatment of women, especially lesbians, or even how I could deal with my sister lesbians in an atmosphere of 'peace and harmony.'"[53] Likewise, Eric Garber received both constructive criticism and support when he workshopped his T'aint Nobody's Business show with his peers at the San Francisco Lesbian and Gay History Project. In this discussion, members of the group debated the political implications of a white scholar "speaking for" black gay experience.[54] Shoddy scholarship or inappropriately celebrative narratives within the LGBT historian community were critiqued by audience members and peers, regardless of whether the authors were academic or amateur historians. The gay and lesbian community enthusiastically embraced the production of slideshows, but these shows, much like scholarship produced within the academy, were subject to a kind of peer review that scrutinized narrative and content.[55]
The need for an LGBT past certainly produced a significant number of community and burgeoning academic historians, but the real impact of the LGBT history was on the countless queer folks who couched their new political and public identities in narratives of the past. After the publishing of Gay American History, Katz recalled a profusion of correspondence from readers who were grateful for the new historical connections made to their own experiences.[56] Likewise, visitors to LHA often cultivated an intimate relationship between the personal and collective past, using archival documents for varied purposes from dealing with sexuality after mastectomy to using the space and materials to facilitate coming out to a mother.[57] Community history enabled the development of proud political identities, but also offered a process of healing for the personal challenge of coming to terms with being lesbian or gay.
Collective Memory and Identity as Political Tools
If we understand current political formations like the nation through stories about how such institutions came to be, it stands to reason that communities who find themselves denied full participation in or recognition from the nation would also fail to identify with the sanctioned histories. As people of color, women, and sexual minorities found themselves excluded from national historical narratives, activists in social movements identified such as a cultural front in the struggle for liberation. Only after a history of these individual communities was established could these groups develop political identities and demand recognition for the same. Their next step would be working towards an integration of these marginalized histories into a revised national narrative, a stage addressed by the development of identity-based history and studies at the university level.
If, as Benedict Anderson has argued, shared symbiotic structures like those that constitute mass media are tools that are used to create an imagined community, then history is the binding agent in that community.[58] Some historians have traced the connection between history and nationalism to Georg W. F. Hegel, who held that "history revealed truth, and nations were its carriers."[59] Activists in the social movements I consider were in many ways nationless, having been systematically denied the advantages of full citizenship enjoyed by white male citizens. African Americans had lived for nearly four centuries in the American colonies and the United States with little to no political representation, first through de jure, then de facto means. Women had been enfranchised for less than fifty years prior to the birth of the second wave, at which point a small minority enjoyed significant economic and social autonomy from male-dominated institutions and society. Gays and lesbians had only just begun to understand themselves as part of a community during the latter half of the 20th century, and then only in small numbers and isolated areas. They had also very recently witnessed a kind of civic death through the intensive policing of homosexuals in the post-war ear and the ousting of gay and lesbian employees in the federal government through Senator Joseph McCarthy's congressional investigations. Although individuals within these communities varied significantly in their investments in mainstream society and American democracy, the early manifestations of these movements generally presented an identity that was outside of the nation state. In many ways, the identity-based social movements of the mid to late 20th century were projects in political sovereignty and self-determination, and like any nation-building project, deployed the power of historical narrative to legitimate and coalesce community.
The actors and organizations highlighted here tell a history of individuals and communities that desired change for the world they inherited. They understood the power of the past to explain the present and to reimagine the future. They recognized that culture was a key front in their struggle for liberation, and they knew the power that identity held for building political community. They understood that mainstream institutions had not represented their struggles and victories in a favorable light, and they redefined the terms by which liberal institutions like museums, universities, and archives interacted with their stories, their artifacts, and their representations. The identity groundwork laid by these movements would serve as the basis for the culture wars over curriculum, university structures, arts funding, museum exhibits, and collection policies that emerged in the 1980s and 1990s. The claims made by women, people of color, and queer activists during the following decades would have been unthinkable without the efforts made on the cultural front of these movements. History, then, not only served as a way of understanding the past, but also justified actions in the present, and laid a foundation for imagining a new, more democratic and egalitarian future.
•
Lara Kelland (MAPH '02) is moments away from earning a doctorate in history at the University of Illinois at Chicago, where she muses at great lengths about the power of history to build community and form identity. She's always a MAPHer at heart, though, and is thrilled to be granted space to think in an interdisciplinary way, far from the prying eyes of The Historians. She lives in Chicago with a pair of great danes, runs an After School Matters program to radicalize CPS teens, practices yoga, and bikes. She does play well with others, but also runs with scissors.
(cover photo by Maren Robinson; MAPH '03, MAPH Associate Director)
---