Mark your calendars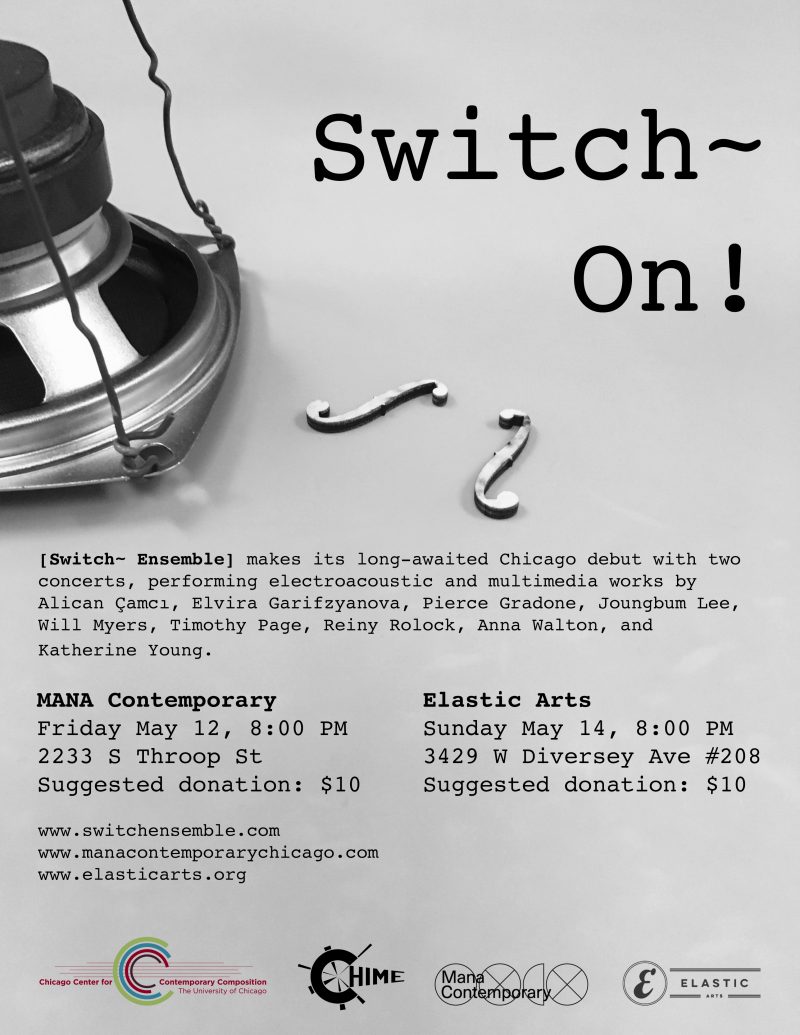 Poster!
More info here
SuperCollider jam-out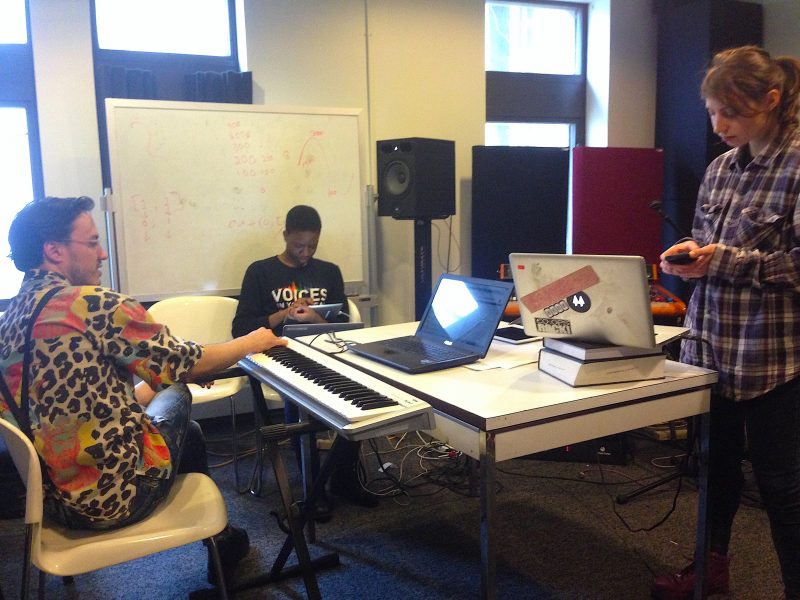 Improv session through SuperCollider and external controllers.
Featured above are Electronic Music II students: Takashi Shallow, Ire Olagbami and Fran Levitin.
Busy CHIMEs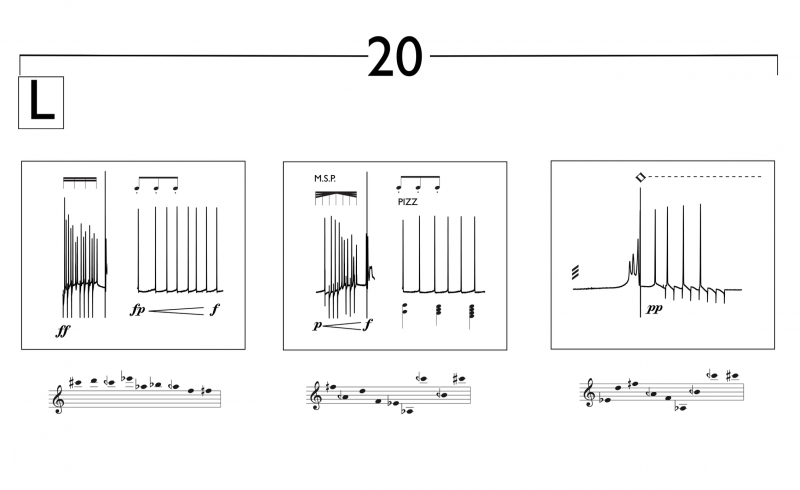 Busy times for CHIME. Director Sam Pluta on tour with the Peter Evans sextet, Alican Çamcı and Igor Santos just finished performing Saariaho's "Aer",  and the Switch On! project is coming up.
Pictured above is a snapshot from Pierce Gradone's graphical cues, for his new piece Net(work), for violin, cello and piano/keyboard. The work is a collaboration between Pierce and UofC neurobiologist Dana Simmons, and will be premiered by the [Switch~ Ensemble] on May 14th, at Elastic Arts.
Five from Afar

CHIME is running electronics for Kaija Saariaho's "Aer", as part of UChicago Presents' "Five from Afar" concert.
When: Sunday, April 9, 2017 – 3:00pm
Where: Performance Hall, Reva and David Logan Center for the Arts
CCCC

The Chicago Center for Contemporary Composition, one of the sponsors for Switch On!, has officially been launched!
Composing for [Switch~]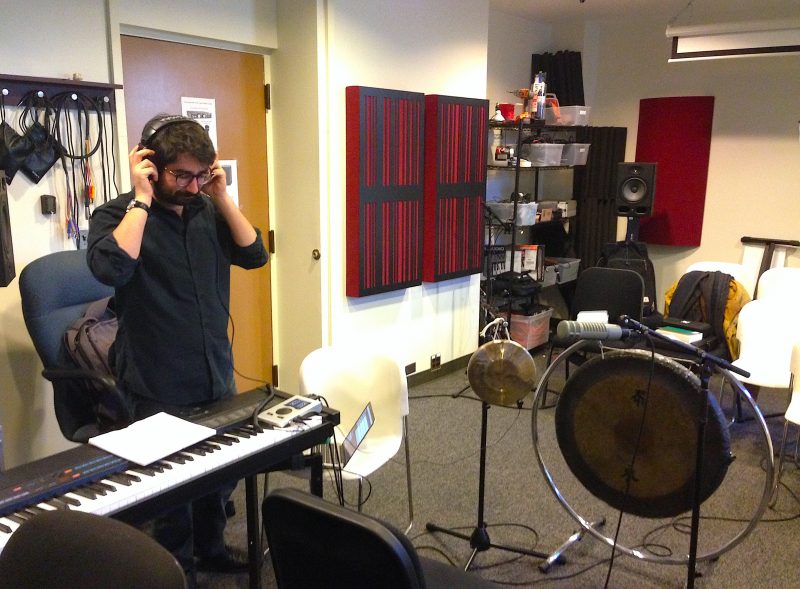 Alican Çamcı working on his new piece for the [Switch~] Ensemble.
Premieres May 12 @ MANA Contemporary. More info here.
New analog synthesizer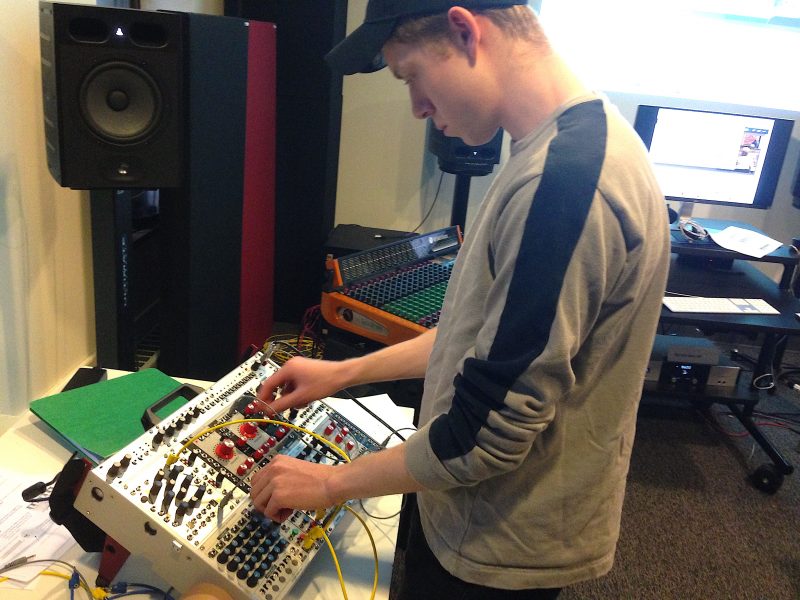 CHIME's new Eurorack synth modules.
(pictured above is Sam Segan shredding some percussive sounds)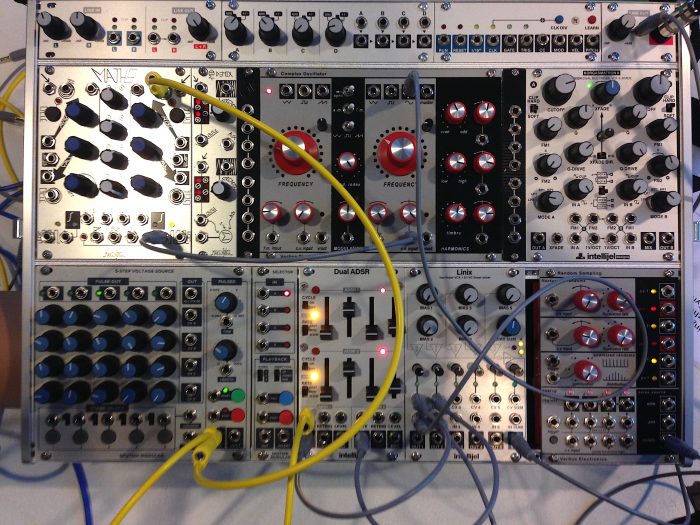 Electronic Music I – Class Concert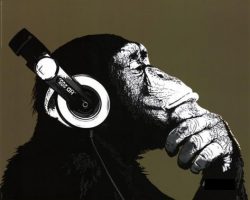 Monday, Feb 20th at 7:30 pm. Fulton Hall , Goodspeed Hall (4th floor). Free Admission.
New electronic music works by:
Maya Baumann, Logan Snodgrass, Will Myers Kiana Shin, Jan Brugger,  Hassaan Ejaz, Anshuman Pal,
Sam Segan, Rodrigo Bussad, Kim Kawczinski, Shirley Zhang,Tiffany Chen, Areknaz Khaligian, Joungbum Lee,
Jiye Park, Maria Perevedentseva, Michelle Ross, Saeri Sakai
Mystery student loves Parmegiani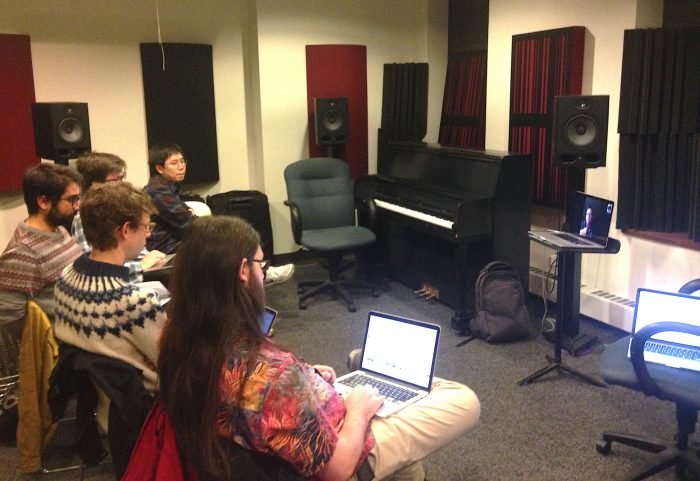 Switch On! Fall meeting happening during finals week. Thanks Jason Thorpe Buchanan for Skyping in!
Referential information for participating composers can be found on this website, under Collaborations –> Switch~ On!