Dance Films Kino is a three-week project that I am presenting as an artist in residence at Hyde Park Art Center, March 4-25, 2012. Over three weeks, I will present 30 works of dance on film, as well as over a dozen live music, dance, and literary readings. All of the programs will be free to the public.
The seeds of this project were planted ten years ago, back when I was a MAPH student sitting in Yuri Tsivian's intro to film class, learning about how filmmakers whose works were censored, or considered to be too experimental for mainstream distribution, showed films out of their own homes.
The films and performance I am presenting will be shown in an environment inspired by "kinos", underground, avant-grade art clubs of the 1920s and 30s. I'm currently getting ready to paint the walls of my residency studio red, put out the caberet tables, and art deco objects I've sourced from Etsy. I'm creating artwork inspired by movement to hang on the walls of the space.
My first goal is to show movies in a place that feels like someone's home, so that people are a little more willing to give something they've never seen before a try. My second goal is to bring all kinds of artists, writers, musicians, dance makers and filmmakers together to create a lot of different points of access into the work.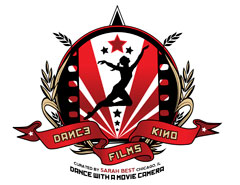 My third goal is to invite people to help create the space by imagining what it would be like to be a part of an underground society, to feel nostalgia for a fictional place situated in the past. I think there is a collective desire to engage in this type of activity. I think it is part of the reason why bars inspired by speakeasies are so popular, and why people like to fantasize about travel, even in tough economic times.
More on how Sarah arrived at this point after the jump