Last summer, Alessandra Stamper (MAPH '15) interned at MAKE Literary Magazine. Here's her insight into working for a small, creative non-profit, and the perks that came with the job!
Alessandra writes:
Interning for MAKE Literary Magazine has given me an insight into the local, independent literary community in Chicago. I'll be honest, I didn't know too much about it before working for them, and am thus very grateful that I got the position. Not only did I learn about the literary community in Chicago, I also learned about what it's like to work for a non-profit. I had worked for non-profits before, but on a larger scale. MAKE, although prominent, is comprised of a small staff, so for me it was interesting to see how such a small staff can put together such a splendid product. The two people I worked with were very intellectually curious, which made it a pleasant working relationship; not to mention fun, as my interview took place at a coffee shop in Logan Square, I got to hang out with them at Pitchfork Music Festival (for free!), and our subsequent meetings were at cool restaurants in Logan Square.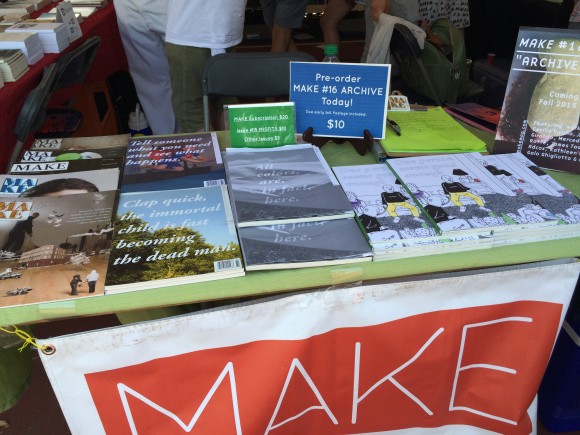 My primary duty was to post stories from previous issues on the website. Ideally these posts tied in with the theme of the upcoming issue, which is Archive. I felt like my input was valued, as I was able to suggest which stories I thought we should post. Once a story was decided upon, I copy edited the electronic version with the paper issue and entered it into the WordPress website. I also uploaded pictures and reached out to the author and or artist for updated bios to include in the post. I was responsible for creating content for the social media posts to advertise the web posts, which included Facebook, Twitter, Tumblr, and Instagram. For the Instagram, I also took pictures around the city and paired them with a few lines from a poem or work of fiction or nonfiction from an issue, which was a really fun, creative project.
The content that I worked with was interesting, which was great for me because I felt like my intellectual curiosity from graduate school carried over in to the internship. This is a perfect internship for those interested in working in the magazine or literary world, but it's also really fun and interesting even if that's not necessarily a desired career path.
Current MAPHers can see the list of internships available this summer here.