Below is a blog post from Jeff Gilliland, who during his MAPH year, completed a creative thesis and worked for the Illinois Humanities Council through a Maph Summer Internship (which you can read about here!). Jeff currently works in Washington D.C. as the Communications Associate at Young Playwrights' Theater.
Bringing Arts Education to Life AfterMAPH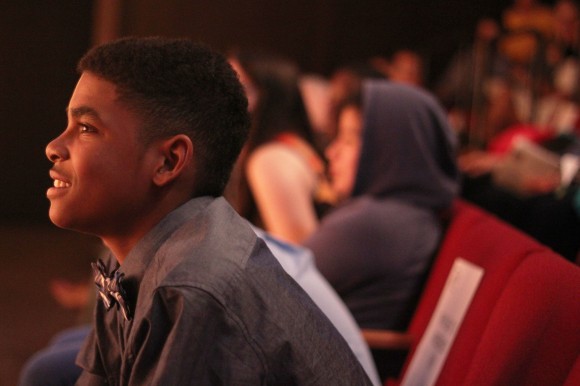 The moment it becomes real is when you're sitting in a darkened theater, audience roaring behind you, and you turn to your right and there's a twelve year-old watching his play come to life, and he's beaming.
At that moment, the actors onstage disappear. The hours of work, the endless fliers and e-blasts and Facebook posts melt away. Nothing matters but that young man, his art and the hope that you've made his life a little bit richer.

My name is Jeff Gilliland, and I am a MAPH alumnus from the Class of 2013. I wrote my first play in third grade (Home Alone 4: Lost in the Airport), sang my first solo a few years later and have been hooked on the arts ever since. I studied Fiction Writing and Philosophy in MAPH (Hegel is my dawg), worked at the Chicago Coalition for the Homeless during the school year and did the summer internship at the Illinois Humanities Council after graduation. My time at MAPH, and particularly in my two internships, solidified in me a deep desire to work at the intersection of creativity and social justice—to provide people with the kinds of opportunities I was lucky enough to have growing up, and which shaped the person I am today.
Now, thanks to MAPH, I get to do just that. As Communications Associate at Young Playwrights' Theater (YPT) in Washington, DC, I represent an organization that brings much-needed arts programming into DC public schools, then hires professional actors to perform the student work on stages all over the city. Our curriculum is aligned with Common Core State Standards, and we are proud to say that our students consistently score higher in English Language Arts after taking our workshops.
But that's not what makes YPT such a great organization to work for, nor is it what makes arts education so vital in our schools. The thing that consistently surprises and delights our students is simply this: we let them write whatever they want. We don't censor or constrain their work—we simply guide them through the process of bringing their ideas to life in the most powerful way possible. For many of our students, this may be the only opportunity in their entire scholastic careers to write about something that they truly care about.
And what do young people in DC care about? Everything you can imagine. Last year, our annual New Play Festival featured plays about magical stuffed cats, broccoli superheroes and an evil demon librarian; it also showcased stories of alcohol abuse, homelessness and gang violence. Many of our playwrights attest to the cathartic power of expressing their feelings on the page, and particularly to the deep personal impact of having their work taken seriously by professional theater artists. The fact that I get to play even a small role in bringing their words from the classroom to the stage brings me profound pleasure every day.
The truth of the matter is, however, that when I began my job in January, 2014, I was woefully unprepared for what was to come. That's just how it is with jobs: you never really know what you're going to have to do, or what problems you'll have to deal with, until you get there. Never used a DSLR camera before? Better figure out how before you're asked to photograph a performance. Fibbed just a bit when you listed Adobe Photoshop under "Special Skills" on your resume? Better load up on YouTube tutorials so your first flier doesn't turn out looking like crap! Grew up in California, where you learned nothing about the racial politics or socioeconomic disparities of the DC metro area? Better work it out fast if you're going to reach DC's most underserved populations!
It is in these areas that my time in MAPH has been the greatest boon. Learning to speak to an audience is a skill that you never forget, whether your audience consists of academics or theater people or students. And though MAPH does not teach Photoshop, it does instill critical thinking, systematic approach and calm under pressure—all skills that I bring to bear on the tight deadlines and stresses of nonprofit work every day. But the most important thing I took away from MAPH was a community of passionate, socially motivated thinkers who recognize the power of the Humanities to change the world from the inside out.
Working at Young Playwrights' Theater has been one of the greatest challenges of my life—greater even than finishing my thesis on time. As it turns out, it's one thing to espouse the value of the arts from the bubble of academia, and another entirely to convince donors that the poor kids living east of the Anacostia River deserve creative writing programs, too.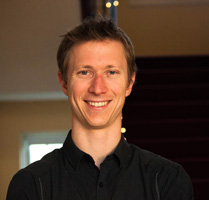 It's not always simple, and it's not always fun—very few things worth doing ever are. But it is among the most rewarding tasks I have ever been given. So I encourage all of you, whether in MAPH or beyond it, to find ways to put your Humanities education to the test. Stretch your limits; seek to make a substantive impact on even one person.
Climb down from the ivory tower and take in the view from the ground—you may not be able to see as far, but when you get a glimpse of real life realized, it will take your breath away.
For more information on Young Playwrights' Theater, visit yptdc.org.