"Find the place that scares you most and run to it." — Eric McMillan (MAPH '10) on writing and, well, life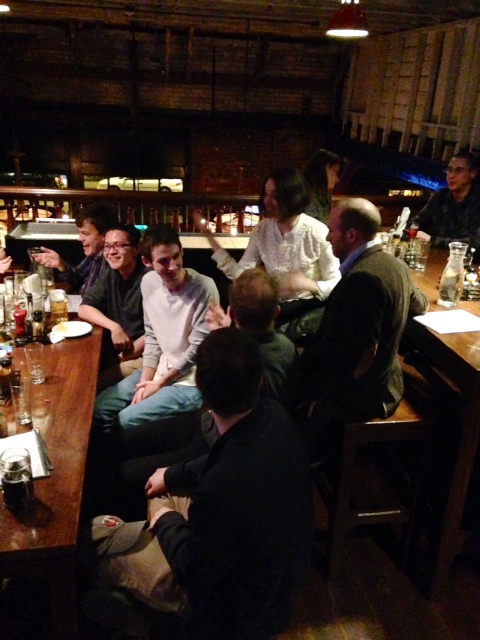 Last night, while leading eight current MAPH creative writers on an uphill March from the Seattle's Washington State Convention Center to Von Trapp's in Capitol Hill, I was marveling (aloud, perhaps unfortunately for my companions) about what going to the AWP conference can do for an aspiring writer. We were on our way to the second-ever MAPH/UChicago Alumni offsite reading at AWP. Earlier that morning, my colleague A-J Aronstein and I had stopped by a panel featuring the poet and teacher—and reader at last year's offsite event—Shaindel Beers (MAPH '00) entitled the "Art of Difficulty." Using beautiful language, Shaindel described teaching poetry students in prisons, schools, etc. as finding a way of "giving permission." To write, one has to believe that they have something worth saying, a voice worth hearing. To Shaindel, it is a writing teacher's job to nurture that belief, to create a space for it to thrive.
I felt this way last year when I attended the conference as a student, and I feel it even more this year as an alum: what AWP does best is a lot like what MAPH does best. It gives people a space in which the permission to believe in your own voice is understood–it is ingrained in the project of being there. To pursue humanistic work (whether creative or critical) is to admit to yourself and to others that you think you might have something to say. And that is scary. Having a place where that admission is automatic and shared by your peers makes a huge difference.
Last night's event put this difference on display. The bar has two mezzanines; each hosted a reading (AWP knows how to take over a town). Due to some technical difficulties involving the PA system, the voices of the other event's readers came leaking out of the speaker on our turf. As a result, we had to postpone the reading portion of the event for a bit longer than expected. What this snafu meant, though, is that the alumni, students, curious
conference attendees, and friends who came out had some time to get to know each other before anyone shared their work. By the time the reading across the way had wrapped up, the good vibes in the room had multiplied (no doubt aided by some excellent German beer).
Evan Stoner, current student and resident brave soul, started us off by reading his short story "Jesus Can't Swim," which was funny, smart, and economical. It was his first time reading in public. On top of that, thanks to me being the responsible mentor that I am, he didn't find out for sure that he was reading until a few hours before the event. You never would have known that though, for Evan shared his work with us with a confidence, warmth and humor.
Next up was Hilary Vaughn Dobel from the class of 2009. I had read Hilary's poetry online before, and I was really excited to hear how it sounded when she read it. Perhaps because Hilary is also a translator, there is something uniquely communicative about her work. Her voice is undoubtedly her own, yet she reaches out through it in a way that makes reading (and, as I learned, listening to) her poems feel so natural.
After addressing our current students with some genuine appreciation and damn good advice (see quote above),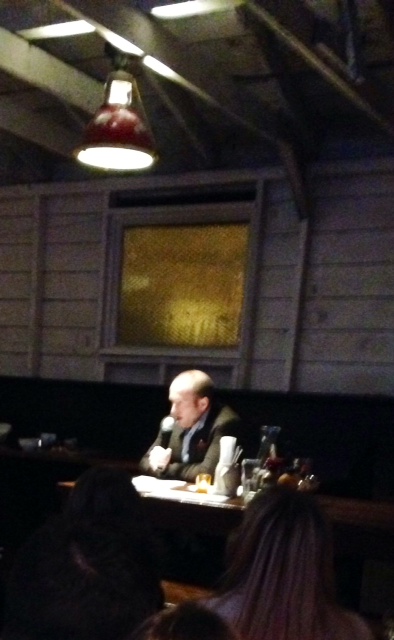 Eric McMillan (MAPH '10) shared a selection from the novel he is working on, which is based on his experience serving two tours of duty in Iraq in his pre-MAPH days. I imagine that I don't need to explain that the material he is writing about is difficult and raw, but there is something so beautiful about the honesty and thoughtfulness with which he writes.
As a whole, the night encapsulated what I love about MAPH and its people. The readings reflected the diversity of thought and voices the program brings together, and the warmth of the interaction between our alumni and current students demonstrated the fact that the community MAPH builds stays strong long after your last social hour as a student.
For more on AWP, be on the lookout for posts by our current students, soon to be on MAPHtastic!
—
Jessi Haley graduated from MAPH in 2013. She is a current Mentor for the class of 2014.