Below is an update from recent MAPH Alum Bart Pushaw ('13) on his Fulbright in Estonia. For graduate students interested in applying for Fulbright, the deadline for the 2014-15 year is September 30th, 2013. You can find more information on the University of Chicago's Graduate Affairs website. 
In his book Estonia: A Ramble Through the Periphery, Alexander Theroux devotes an entire chapter to why he abhors the small Baltic country. The first two pages of the last chapter are filled exclusively with sentences beginning with, "I hated…" While his disgust for Estonia, accrued while accompanying his wife during her Fulbright fellowship in Tallinn, treats banal facets of quotidian life in the country, it is all too easy to fall into his trap and blindly agree with him. Estonia is obscure, the proper names are strange in comparison with Anglo-American standards (take, for example, the names Tiit, Ene, Aat, Epp, etc.), and beating your naked self with birch branches in a 80°C (172°F)  sauna before rolling (your still naked body) in the snow to only jump in a freezing lake might seem a little extreme. But, such a nation would be obscure to Americans growing up in the Cold War era, where Estonia did not exist until it emerged among a plethora of so-called "random" post-Soviet states in 1991 (actually, the Republic of Estonia was also sovereign entity from 1918-1940). And Estonian names are, in fact, normal to Finns—of course a result of Estonians and Finns descent from a singular ancient Finno-Ugric, and notably non-Indo-European, culture. Besides, beating yourself in a sauna is something that really should be experienced before it is written off!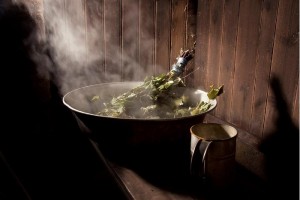 It is easy to become disillusioned with studying Estonia, its history, and its culture. The country's relative obscurity is alluring for many, as is the strangeness of the origin of its language. The grammar is complicated, yet interesting. While studying Estonia continually presents challenges, it is in this process of solving these challenges where my perpetual fascination occurs. My time and energy invested in Estonia is equal to that of a long term relationship. As such, I become highly defensive when I am constantly reminded of the country's "uselessness" on the international stage. But what have Estonians contributed after all? In a word: Skype. But reaching far back beyond the rise of the Baltic Tiger in the 1990s and the flourishing of twenty-first-century tech-friendly Tallinn (kindergarteners in Estonia are taught the basics of programming code), Estonia's significance becomes hard to map. While Estonian culture remains a part of my studies, I have an ambivalent relationship to it.
So, you may ask, why am I on a Fulbright fellowship to this place for a year?
I have only been living in Tallinn for two weeks, but my experience has been nothing short of incredible. When I arrived, I attended the monthly meeting of the Tallinn Supper Club, where we feasted on a radicchio harvest. I went sailing on the Bay of Tallinn to watch enormous bonfires lit along the coast by the Baltic Sea as Estonians celebrated (lamented?) the end of summer. I hiked throughout the endless pristine forests just twenty minutes outside of the capital to pick wild mushrooms. And, of course, I've gone sauna-ing many times—a very convenient thing to do when you have your own sauna in your apartment. Somehow, I am already slated to give a talk at the end of September at a conference in Estonian.  Yet Fulbright experience thus far has hardly even grazed my research project, which, in case you were wondering, examines how Estonian and Latvian artists created a thriving art world out of practically nothing within twenty five years ca. 1890-1915.
Yet my knowledge of Estonian has opened many doors, not only to Estonian people and their culture, but even facilitating my own non-Estonian research. For example, my work on the Finnish artist Beda Stjernschantz would have been impossible without critical Estonian language skills. Furthermore, the painting that is the focus of my essay in a forthcoming exhibition catalogue garnered my attention because it was produced in Estonia, a location that would have otherwise been of little interest had I not invested myself in the region earlier. Due to my ability to approach Stjernschantz's painting from a new perspective, I am now a member of an international research team that is constructing the largest retrospective exhibit of her artistic output.
On the 95th anniversary of Estonian independence this past February, Toomas Hendrik Ilves, the president of Estonia, made a comment that really struck me. "Everything that is good and dear need not be gallant nor distant. Estonia is like the wild strawberry: it is genuine and small, difficult to find, and those lacking necessary skills do not notice it nor are able to assess it. But once you have it in your hand, once it is there, simply being, then it is one of the best things ever. Our home is our wild strawberry." I am fully convinced that Estonia and its culture is that wild strawberry—easy to miss, but so indicative and evocative of what you can find if you let yourself wander and become immersed in the magic of the forest.