Spring has returned to Chicago, and with it a bounty of new publications by MAPH alumni. Leila Wilson (AM '03) and Gregory Lawless (AM '04)  each have a volume of poetry out in which the authors examine their complex relationships with the landscapes of their past and present. Read on for more information in the authors' own words.
Leila Wilson, The Hundred Grasses (Milkweed Editions, 2013) 
Leila on The Hundred Grasses:
My poems are rooted in the flatlands and lowlands: the Midwestern lawns, lakes, fields, and creeks of my childhood, and the Dutch farms, canals, and seascapes near my family's home in Holland. Much of my poetry focuses on those instances when a space exerts itself beyond recognition, when it seems to estrange itself so that it may be renegotiated. For me this is a process of embedding my examination in the musicality of language and paying close attention to the breath of a line.
Leila will be reading from The Hundred Grasses at the Seminary CoOp on 5/21, and at the Chicago Cultural Center on 5/23. More information about her upcoming readings is available at the publisher's website. 

You can purchase The Hundred Grasses from the publisher's website or from Amazon.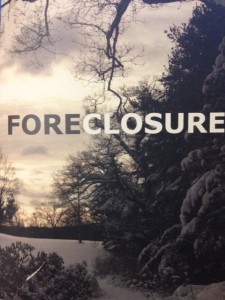 Gregory Lawless, Foreclosures (Back Pages Books, 2013)
Greg's one-sentence synopsis of his newest volume of poetry is, "Voyeuristic pastoralist suffers ecopoetical ravings in Ambivalence, PA."
In an interview on his blog, Greg goes on to write:

…Foreclosure compares to any book of poetry that hovers nervously in the vicinity of the fraught pastoral, simultaneously wary of and lured by it.  Many contemporary pastoral poems regard themselves as anti-pastorals, or post-pastorals—they imagine that the pastoral is impossible because it's terminally problematic, and, thus, they fret in the wake of that "fact."  The poems in Foreclosure fret differently, I guess—not by abandoning convention or reference altogether, but by manifesting what I call critical ambivalence toward them—at times embracing, and at times rejecting these things, as the poems demand.  But ultimately this is a book born of familiarity with a place.
You can purchase Foreclosure from the publisher's website.
If you know of other recent publications by MAPH graduates that you think should be profiled, email us!