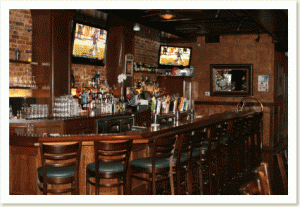 Hey afterMAPHers, once again it has been far too long since we gathered for a MAPH alumni happy hour, but fear not. This is about to be rectified, and you can help by joining your fellow MAPH alums at Sullys House. One of your fellows, Peter Adams (MAPH '04), is the GM at this recently opened watering hole, and has promised to treat us to a fabulous night of excellent beverage, and fabulous pub food (and if that isn't enough enticement, there is appearently some device called a Wii that has something to do with a 100" HD projection screen… Anyway if your in Chicago you should make you way there, and as always MAPH is picking up the bill.
You can RSVP for this fabulous event online by visiting the new alumni calendar, or by contacting the MAPH Coordinator (me) at grams@uchicago.edu, or by calling 773.834.1201
For those of you working downtown or down South here in Chicago, Sullys is just a block from the North and Clybourn stop on the Red Line.