100th Anniversary of the Armory Show and New Web Resources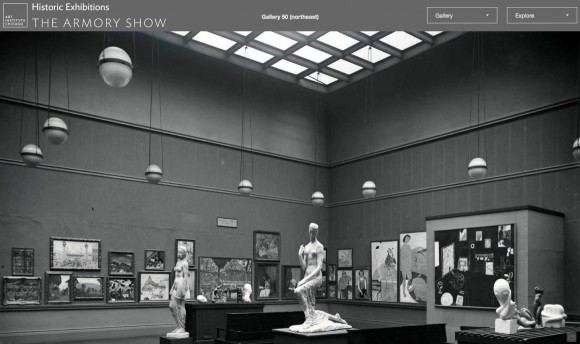 In 1913, a landmark exhibition—the International Exhibition of Modern Art—also known as the Armory Show toured the country, first in New York at the 69th Regiment Armory (February 17–March 15), in Chicago at the Art Institute of Chicago (March 24–April 16), and Boston, at the Copley Society (April 23–May 14). For the first time ever, European modern and avant-garde artists such Brancusi, Duchamp, Matisse, and Picass were exhibited to the US public. And while New York and Boston each had presentations of the exhibition, Chicago was the only venue to exhibit the works in a fine art museum. And in celebration of the 100th anniversary of the Armory Show, there are new web resources that explore the development, installation, and reception of the
The Art Institute of Chicago has a web module about their presentation of the Armory Show, including background information about the individuals responsible for bring the Armory Show to the US, in situ gallery installation photographs mapped onto present day gallery spaces at the museum, PDFs of the original exhibition catalog, and other contextual information.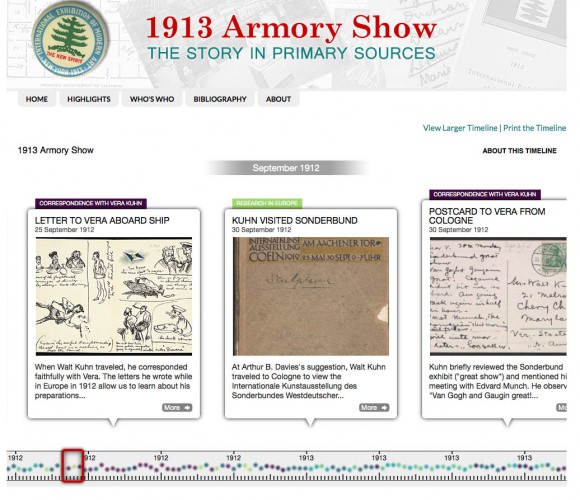 The Archives of American Art at he Smithsonian Institute has a timeline of the Armory Show, "The Story in Primary Sources," that presents digitized documents pertaining to the watershed exhibition in chronological order. The project description describes how the various primary source materials provide context for the exhibition:
Together the letters, sales records, printed ephemera, and personal diaries paint a picture of the Armory Show that is as dynamic as the stunning diversity of works on display.
Both websites also include detailed bibliographic information for further research. For more information, explore the Art Institute's website or the Archives of American Art's website.
Categories: Exhibitions, Modern - Contemporary, Museums