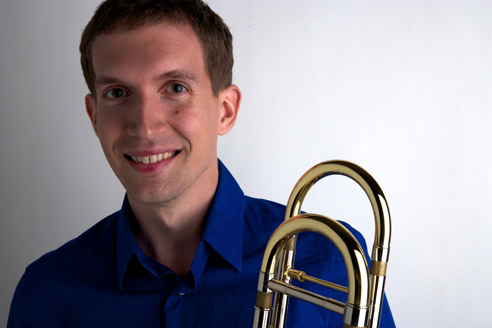 Interview with University Brass Ensemble director Tom Kociela for the ensemble's Spring Concert, "Sounds of Brass," this Sunday, May 26th at 4:00pm in Fulton Recital Hall. Tell us what we can expect from this upcoming program.
The concert opens with music by Wagner from the opera Lohengrin. We then perform an exciting allegro vivace movement by Eric Ewazen, who is always a big hit with audiences.  Other highlights include two movements from a demanding new work by Bruce Broughton, and a piece by David Uber, which includes sounds reminiscent of the old television recording studios.  Each piece is very distinct and almost everything on the program was written specifically for brass. That is why I've titled the concert "Sounds of Brass."  I hope that everyone reading this will consider coming out on Sunday!
Looking back at your first year as Director of this ensemble, what changes have you seen?  How has this ensemble grown?
This year has been one of great progress. I am very proud of the entire ensemble and the fact that the performance level continues to increase.  The improvement from our first concert to the second was noticeable to everyone involved and to repeat audience members.
Listening closely to others and an enhanced awareness of note shapes are my main musical objectives for the ensemble.  I am absolutely insistent on these two points because without them the end product is unconvincing and barely cohesive.  Only when everyone is listening and willing to adjust can the end product be convincing.  My whole approach is about context and consideration of others at all times.  As for note shapes, well, the ensemble knows exactly what I mean and what a huge difference this makes.  Each note must begin immediately and then there is usually some amount of taper in the middle of the note, maybe just a little or quite a bit – the context helps to determine this.  When the entire ensemble commits to clear playing and constant adjustment the resulting product is very professional.  I am happy to report that this is all happening more frequently as the weeks' progress, but you will have to come hear for yourself. read more…