Chamber Music: Neat with a Twist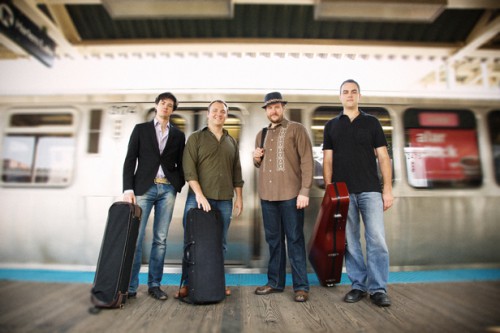 Russell Roland, cellist of The Spektral Quartet — the newly appointed Ensemble-In-Residence at the University of Chicago — shares his thoughts on attracting new audiences to classical music and more.
This Thursday, November 1st, the Spektral Quartet will be performing Verdi's Quartet in E minor as a part of the Noontime Concert Series here at the University.  As the cellist of the ensemble, do you have a favorite among the four movements of this great 19th-century work? Is this a relatively new addition to your group's repertoire or is it a favorite among many others that you have performed in the past?
Personally I love the inner movements of this work.  The second movement is a gorgeous aria, with long singing lines and heartbreaking romantic harmonies.   The third movement is devilishly fast, with a bel canto cello solo in the middle.  You can imagine why I like that one…
Can you tell me a bit about the formation of the Spektral Quartet?  How did you meet?  How long have you been working together professionally? 
We knew one another from various connections within the Chicago freelance community.  Austin and I went to school together at Northwestern, and we played in the Contemporary Music Ensemble. Doyle and Aurelien had played together in Corky Siegel's Chamber Blues and in Anaphora, an ensemble that Aurelien invited me to play with on the recommendation of a mutual friend.  We began by just getting together in late 2009 to read quartets for fun, and gradually realized we really enjoyed each other's company and that we had complementary strengths. Our public debut concert was just two short years ago in October of 2010.
The Spektral Quartet is not typical in that it often programs both traditional music literature such at Beethoven or Mozart with 20th- and 21st-century composers.   The ensemble also breaks down stereotypes by performing in an informal bar setting on an annual basis. What inspires you and the other quartet members to push traditional performance boundaries?  How have your audiences reacted to classical music in more informal settings?    
We enjoy exploring ways to present classical music so that it is relatable for people, whether they have much prior experience with it or not.  Composers today are writing music every bit as innovative, beautiful, and interesting as their predecessors, and by constructing those programs that inter-weave music of different styles and centuries, we find that we hear meaningful connections between them.
In June we're planning another Sampler Pack show at the Hideout, another great indie-rock venue. The bar setting lets everyone enjoy the music without any pretense — it feels like we're all there sharing the experience together, and it brings down any wall between the performer and the audience.
The Spektral Quartet is the newly appointed Ensemble-In-Residence at the University of Chicago. How will the Spektral play a more vital role in the department this year?
In our new role as the coordinators of string chamber music, we want to help energize the program and encourage more and more students and community members to get involved.  The chamber music repertoire is a treasure to be explored throughout one's life.
What other performances are in the works for your ensemble this year?  Can we expect to see another performance in your series, Sampler Pack?  What are you most looking forward to?
We are playing a lot this year, both in town and out.  Next month we play Elliott Carter's 2nd Quartet, along with the Verdi, and Haydn's famous "Kaiser" quartet. We're heading to Vermont for a week to participate in the Scrag Mountain Music series, and next May we're collaborating with the Avalon quartet to perform Mendelssohn's Octet.
http://spektralquartet.com/
Interview by Julia Tobiska, Performance Program Assistant