Passing the Baton: New Directors' Debut Weekend!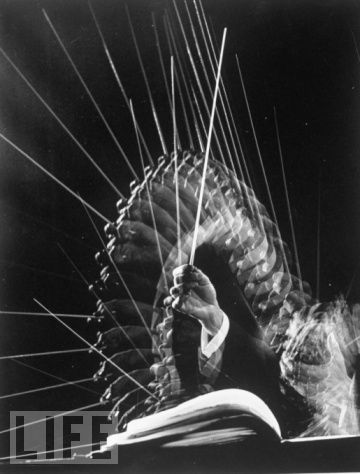 University Chamber Orchestra (Tim Semanik, Director)
Saturday, Nov. 20 at 8 PM in Fulton Recital Hall
Program: Rossini's Overture to Il Signor Bruschino; Berlioz's Les nuits d'été featuring mezzo-soprano Lindsey Poling; and Mozart's Symphony No. 35 in D Major, K. 385, Haffner.
University Wind Ensemble (Chip De Stefano, Director)
Sunday, Nov. 21 at 4 PM in Mandel Hall
Works by Caesar Giovannini, Howard Hanson, H. Owen Reed, Percy Aldridge Grainger, Morten Lauridsen, Dietrich Buxtehude, and Edwin Franko Goldman.
Middle East Music Ensemble (Wanees Zarour, Director)
Sunday, Nov. 21 at 6 PM in International House Assembly Hall
Muwushahat, Music from Andalusia.
In response to: New Performance Program Directors
(Photo: GJON MILI. Stroboscopic image of the hands of Russian conductor Efram Kurtz, while conducting. Jan 01, 1945)