Pianist Mark Valenti reawakens Noontime Concert Series with Copland, Debussy, and Beethoven.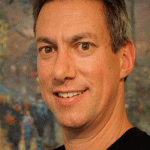 On Thursday, September 30 at 12:15 pm in Fulton Recital Hall, the Noontime Concert Series kicks off with pianist Mark Valenti who will perform Copland's Four Piano Blues, Beethoven's Sonata No. 28 in A Major, and Debussy's Estampes. Admission is free.
Pianist Mark Valenti received his Master of Music from Northwestern University, Bachelor of Music from the Philadelphia Musical Academy and has studied with such notable teachers as Benjamin Whitten, Zoltan Kocsis, and Mary Sauer. In addition to giving solo recitals in cities throughout the U.S., Mr. Valenti has performed in France, Belgium, Hungary and Luxembourg as well as for former First Lady Barbara Bush in Washington, D.C.
Mark Valenti has performed in recital live on WFMT classical radio. He has also done extensive work in the Jazz field including performances with Gregory Hines, Frank Foster and Al Grey and has appeared on television with Joe Sudler's Swing Machine and singer/actor Christopher Durham. He is formerly Professor of Music at the University of the Arts in Philadelphia, Xavier University in Chicago and the Loire Valley Music Institute in France.